Our Lady of the Lake, Osage Beach, MO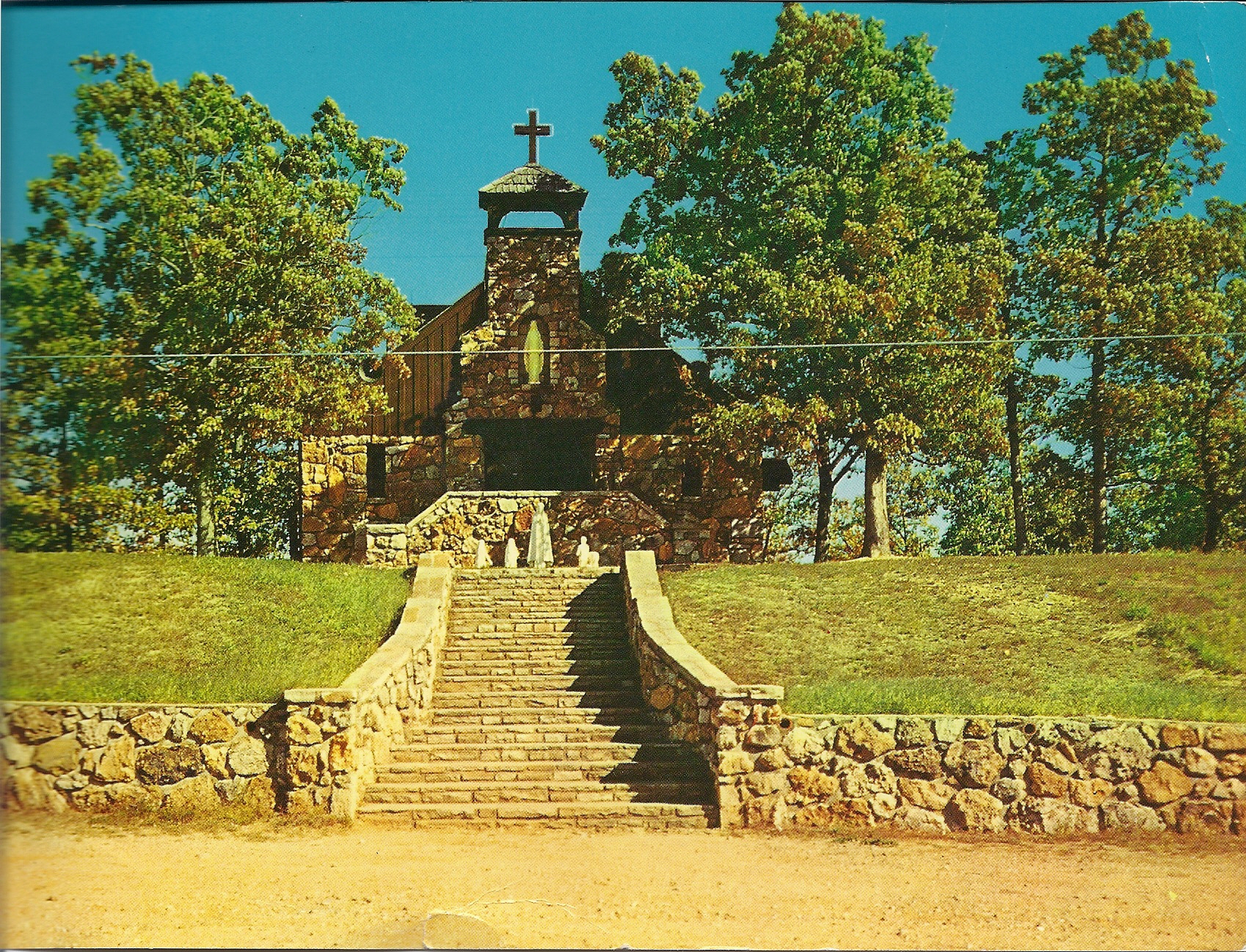 On April 1, 1940 the Catholic Diocese of Kansas City paid $240.00 to Union Electric Land and Development Company for 2.4 acres of land in Lake Ozark.  By the following year, pledges made by local resort owners, business owners, residents and visiting Catholics made it possible for construction of a Church to begin.
The quaint stone Church or "Little Chapel at the Lake," as it was called, was dedicated in May, 1942 by Archbishop Edwin V. O'Hara, Bishop of Kansas City Diocese and was completed in November of that year.  Atop the Chapel's roof was a wooden cross, outlined in blue neon that became a common landmark for night boaters on the lake. No resident priest was assigned to the Chapel; the priest from Eldon's Sacred Heart Church served the "Mission" parish. As visitors to the lake increased, so did crowds at the Church. To accommodate the ever-increasing parishioners and visitors, Masses were offered both on the main level and in the basement of the Chapel. By the summer of 1962, nine Masses were celebrated each Sunday. Within the next few years, the number of Sunday Masses increased to twelve.
After a decision was made to build a larger Church and a Rectory, the Chapel was torn down and the property on which it stood sold and replaced by the Arrowhead Plaza Shopping Center (currently Monarch Plaza). The existing Church and Rectory were completed in June 1966.  At that time, a resident pastor was assigned to serve the parish at the Lake of the Ozarks. In March 1980, Bishop Michael F. McAuliffe, Bishop of Jefferson City Diocese, dedicated the Church.
During 1993, an addition to the Church provided the parish with a Chapel, a fellowship area, and needed office space. In 1999, a new Rectory was purchased, allowing the old Rectory to be used for more classrooms.  From a small Chapel to a large Church that can seat 1200, Our Lady of the Lake continues to serve the parishioners, summer residents, and visitors to the Ozarks area. While the Church has grown in size and membership, the parish has maintained its mission of a faith community and spirit of welcoming visitors to the area.
Pastoral Care
1965: Fr. Charles Pfeiffer, Pastor
1965: Fr. Robert Chenowth,  (Never Appointed)
1968: Fr. John Kennedy, Pastor
1972: Fr. Jerome Bestgen, Pastor
1978: Fr. F. C. Bonn, Pastor
1986: Fr. J. James Offutt, Pastor
1996: Fr. John Long,  Pastor
1999: Msgr. Michael J. Wilbers, Pastor
2014: Msgr. Marion Makarewicz, Pastor
2021: Fr. I. Medina, Pastor
2022: Fr. Michael W. Penn, Pastor