Act of Spiritual Communion
The Church encourages frequent, even daily, Holy Communion but, if at any time we cannot go to Mass in or out of this season of the coronavirus, we can still unite ourselves to the Eucharist through making a spiritual Communion or communion of desire.
Fr. Dan Merz, STD, a priest of the Diocese of Jefferson City and scholar of the sacraments and liturgy offers the following prayer patterned after that of St. Alphonsus Ligouri for our use when we are unable to receive the Eucharist:
My Jesus, I believe You are present in the Most Holy Sacrament. I love You above all things, and I desire to receive You into my soul. Since I cannot at this moment receive You sacramentally, renew my heart now with the power of Your Spirit. I embrace You and unite myself wholly to You. Unite me more closely to Your Body, the Church. And never permit me to be separated from You. Amen.
By offering this prayer , we express our faith in Christ's Real Presence in the Eucharist and ask Him to unite Himself with us.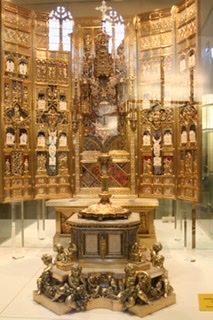 A beautiful way to unite with Jesus is to make a spiritual communion before the Blessed Sacrament such as during a holy hour. If it is not possible to do so in person, there are 13 chapels that broadcast adoration 24/7.
Go to Online Perpetual Eucharistic Adoration for a listing of sites.