CATCHING FIRE! At the National Catholic Youth Conference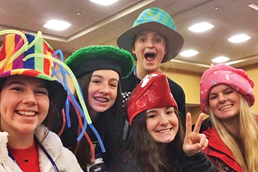 Vicki Irsik – December 17, 2019
I am always so in awe of our God! On November 21-24, He brought together 24 students and 9 adults from Our Lady of The Lake who rode a bus to Indianapolis, joining 22,000 other young Catholics! With everything negative we hear about the Catholic Faith, there was nothing more inspiring than spending three days with kids who intimately discovered or rediscovered Christ, evangelized as only those can who are on fire for Christ, or just rested in God's unrelenting love, grace and mercy! Truly there are no words powerful enough to describe the wonder and child-like joy that everyone, including this seasoned senior citizen, experienced during the rallies at Lucas Oil Stadium.
The contemporary Christian band, "Of King and Country," brought everyone to their feet time and again with their powerful vocals and witness of Christ's love and devotion to his everyday disciples. This conference brought world-class examples of evangelization that would be otherwise difficult to experience. In fact, most of the performances, worship sessions, witnesses, musical groups and testimonials were by folks well-known throughout Catholic communities. You can read more about actual performances and celebrities at this link to the Catholic Missourian. There are also pictures of those attending from other dioceses! Take a peak at http://www.catholicmissourianonline.com/stories/teens-faith-catches-fire-at-catholic-youth-conference,2256 One excerpt from the article was particularly encouraging….
Bishop McKnight said he was proud of the teens from this diocese at NCYC. "The youth are not merely the Church of tomorrow, but they are very much part of the Church today," he stated. At a gathering of NCYC participants, he urged the teens to participate in the development of a new diocesan pastoral plan by attending a youth summit with him next May. "We will look at how to improve cooperation between clergy and laity; fostering the spirituality of stewardship and individual discipleship; and transforming parishes into centers of charity and mercy," he told them.
Here at Our Lady Of The Lake, we are encouraging our older students to become active in the parish through volunteering for the plethora of services or positions available in our church. Being included in the Parish Commissions is my personal goal for high school students for many reasons. Being part of something big might just inspire them to greater effort and ownership within our parish!
The generosity of our parish and our diocese enabled our high school students to participate in NCYC. A HUGE Thank You goes out to John DeLaporte and Kris Hartman of the Youth Ministry Office for coordinating all 480+ people who needed a bus and hotel rooms! Our own parish sponsored the majority of our conference fees, and donations are still welcome to support the event.
This one event will continue to shape their beliefs and values for years to come. Join me in celebrating their most-worthy contributions to Our Lady and invite them to remain steadfast in their faith and in our parish community. Let's also invite them to help us 'catch fire' and spread the Good Word!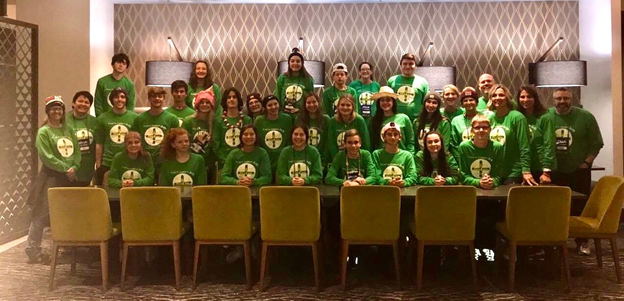 Students attending were Joey Adams, Alex Anderson, Aaron and Christopher Boyd, Matthew Brauman, Kennedy Brick, Chris and Joshua Cooper, Marley and Madden Corpe, Emmily Dulle, Mason Dulle, Haley Fowler, Sydney Genaro, Ethan Kucsik, Scout Mayer, Cam Myers, Grace and Becca Otto, Mikaella Stipanitz, Hannah Thompson, Georgia Verslues, Katherine and Sara Wolf. Adults who attended were Andrea Anderson, Karen Blevins, Eric and Karri Brauman, Jody Corpe, Kimberly Dulle, Vicki Irsik, Tony Otto, Amy Verslues and Joan Wolf.