On August 22 we will celebrate our parish feast day The Queenship of Mary. To prepare for this blessed day, we pray a novena in church each evening for the nine days before the feast, starting August 13. Novenas are an ancient tradition in our Catholic faith.

You can attend as many novenas at church as you are able. However, you can also say the daily prayers at home or with another group of people. Make your plans now.
At church, prayers and rosary will be followed by a light meal and gathering in the Fellowship Hall. We are asking parishioners as a team or family to host an evening at church by leading the prayers and providing a light meal. (Example: sandwiches, chips and cookies). Sign up sheets for attendance and for hosting at church will be at the Fellowship Hall Welcome Desk.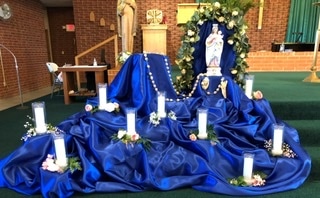 Read prayers and learn more about the Queenship of Mary Novena on our web page — Our Faith/Prayers and Devotions/Queenship Novena or click below