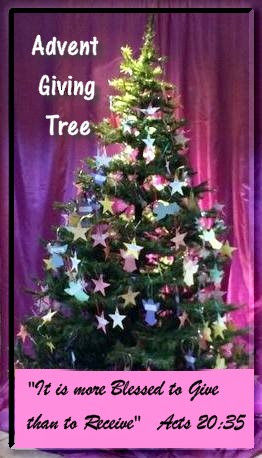 Our Lady of the Lake Parish will once again be sponsoring an Advent Giving Tree. By picking up a numbered ornament, you will be helping those less fortunate from our area. Our outreach this year is supporting The Hope House, Helping Hands, Lake Side Meadows and Ozark Rehab.
Those that wish to participate but may need some assistance getting an ornament, please contact the office at 573-365-2241. This begins on 12 November and all gifts MUST be returned by 4 December, wrapped, and placed in the back of the Church.
Where will the ornaments be located: OLOL Vestibule, South side and Fellowship Hall entrances.
When: The Advent Giving Tree Ornaments will be available after Mass the weekends of November 12/13 and 19/20.
How:  Ornaments will be placed on top of tables to easily read versus having to pick them up individually from the Advent Giving Tree.  Each ornament will be marked with a colored ribbon indicating an age group.  Each numbered ornament will have the age, sex, size and include requested items to purchase that will bring joy and make Christmas brighter through the Spirit of the newborn Christ Child.   
Process: Each ornament will have a second page to place your name and phone number that once selected and filled out is then placed in the provided basket. This assists with keeping track of each ornament.
Why: The Advent Giving tree will be displayed and decorated in the vestibule and symbolizes a magnificent way in giving to bring joy into someone's life. In the end, it is the giver who receives the best gift – knowing you brought the light of the Christ Child into someone's life.