Homily for Fifth Sunday of Lent, March 29, 2020
The 20th Century brought forth into the world incomprehensible tragedy human history and tested the limits of reason and science. One of the more popular slogans that appeared in the later part of the 20th century responded to the question of suffering like this: "Life is a mystery to be lived. It is not a problem to be solved." When I first heard these words while I was attending a retreat as a young man, it was as if a dark cloud lifted above me and I could see the sun again. I was getting older and as I got older and studied more and more, the more difficult it was for me to understand. Yes, there is reflection and study. Yes there is science and reason. But all these fall away in the face of the incomprehensible mystery of human existence.
Rainer Maria Rilke, a German poet from last century says it like this: "Love the questions themselves, like locked rooms and like books that are now written in a very foreign tongue." While Rilke would abandon his Catholic faith in his later life, his poetry can't be read without reference to the religion that he grew up in. His poetry is steeped in mystery. He uses many images of Catholic worship and theology as stepping stones to talk about life. He may not have appreciated the Catholic answers of the faith, but he could not deny the Catholic questions that we have been asking since the beginning of our existence as God's people.
We are reading the third gospel passage in a row from the Gospel of John. There are so many ways to approach John's retelling of the story of Christ's life, death, and resurrection and the beginning of the Church. One very effective way to approach the mystery of Christ is to listen to the questions that people pose to Jesus or the questions they ask each other about Jesus. The first half of the Gospel of John is the Book of Signs. Jesus accomplished seven great signs of his power. With these signs are long dialogues which explore the meaning of these signs and guide the reader to faith. The questions the characters ask are key points in the narratives to help us focus on the answers that Jesus gives us.
Two Sundays ago Jesus asked the Samaritan woman for a drink. The Samaritan woman at the well in turns asks Jesus, "How is it that you who are a Judean man, ask me a Samaritan woman, for a drink of water?" The story continues as Christ draws the woman away from her concern about the daily trouble of fetching water from the well of Jacob, leading her to examine the greater thirst that lies within her that earthly water can't quench. Questions like this are asked again in chapter six of the Gospel of John, when the people want free bread to eat, and Christ offers them something more. The woman at the well and the feeding of the multitude are both explorations in the difficulties we human beings face with simple survival. The question is, "why is it so hard to find food and shelter, health and safety?"
Last Sunday, the question was asked, "Is this man blind because of his sin or the sin of his parents?" This question illustrates one of the central issues in the entire Scriptures: what do we do about sin and evil in this world. Why does evil exist? Why is there suffering. The religious leaders were pretty sure they knew the answer and in many cases, they were right: suffering exists in the world because we sin. But Jesus doesn't stop there. Jesus engages in these long dialogues to help people explore the suffering around them, in places where it doesn't seem we can find God at all, and says that this is precisely where God's power is most evident.
This Sunday, the ultimate question that each of us asks, asked by Martha and Mary, "Why did you allow our beloved brother, your friend Lazarus, to die? Christ's answer is simple: "And Jesus wept." The question that Martha and Mary asked was the question that the early Christians asked. If Christ rose from the dead, if he had power over death, then why to the people we love die? This is the fundamental question that every Christian must face. Paul struggled with this question also. He gave many answers as he experienced his own confusion when the return of the Lord was delayed. Christ is raised and he lives among us. The Spirit of Christ is within the believer. For the person of faith, the question about death becomes, "how do we experience unity with the Risen Lord now? If we live, we live in the Lord. If we die, we also die in the Lord." Paul invites his fellow disciples to enter into the mystery of Christ, which necessarily means uniting oneself to the suffering of Christ and his death. If we do not enter into the Paschal Mystery, we will not have the living Christ within us. When Jesus wept at the death of Lazarus, he showed us that he had fully entered into the mystery of humanity, sharing with us everything.
The Church continues to asks these questions, about simple survival: how do we survive each day? What is important? What must we do? About the problem of sin: why do good people suffer and why does God allow the sinner to prosper? About the problem of death: If Christ rose from the dead, then why must we all die?
I can't answer these questions with only with words or explanations. I instead invite you to enter into the Mystery of Christ. The Sacraments of the Church are the primary means by which we are immersed in the Mystery of Christ. In our baptisms, we are immersed in his death. In the Eucharist we share in the sacrificial passion and death of Christ on the cross. The Eucharist is sacrifice, but it is also an agape meal: we are bound together as the Body of Christ as we experience his love for us poured out upon the altar.
At the center of the Eucharistic prayer is the Mystery of Faith: And we all proclaim together our answer to all the questions that fill our hearts. When we eat this bread and drink this cup, we proclaim your death O Lord, Until you come again.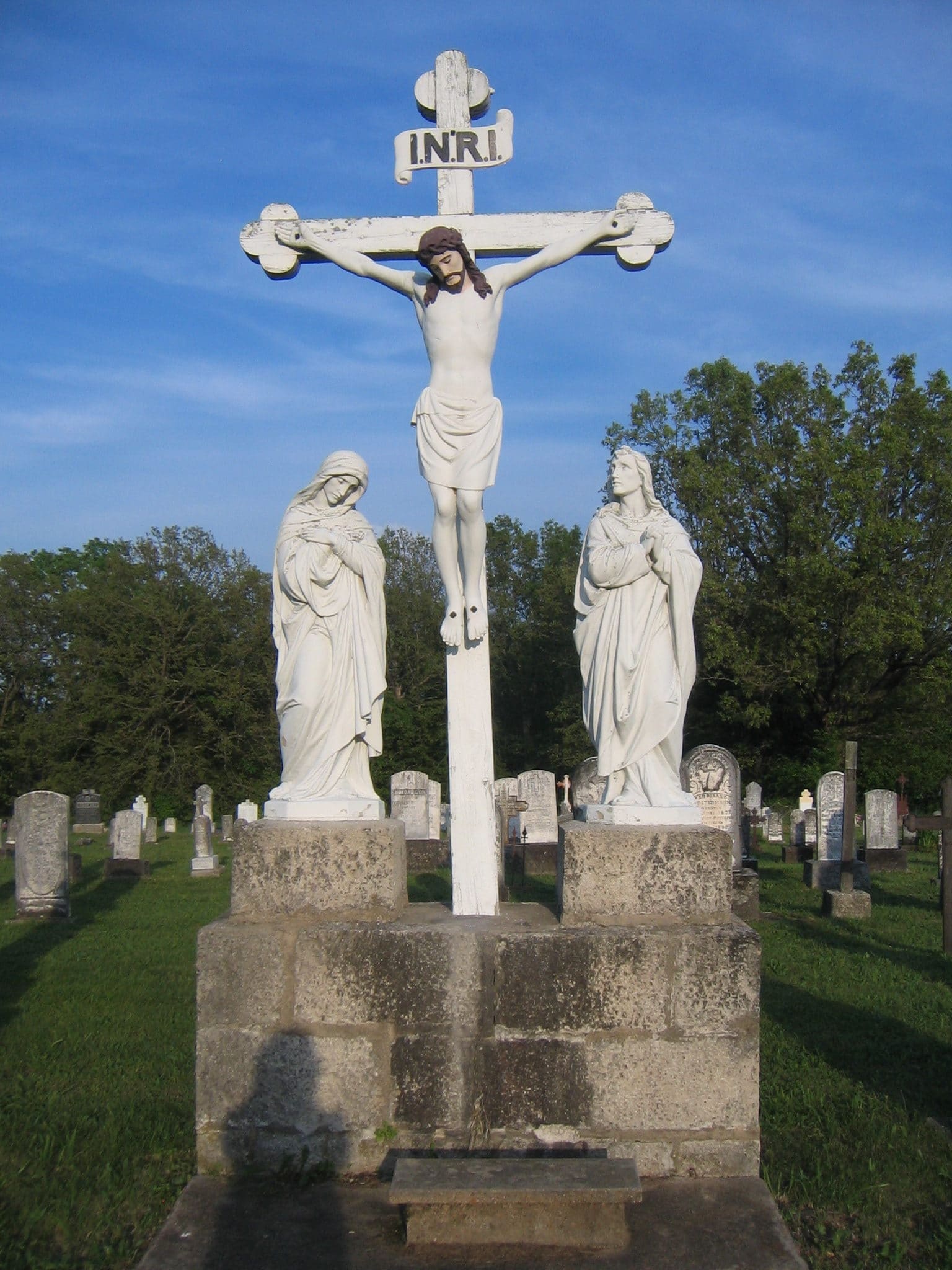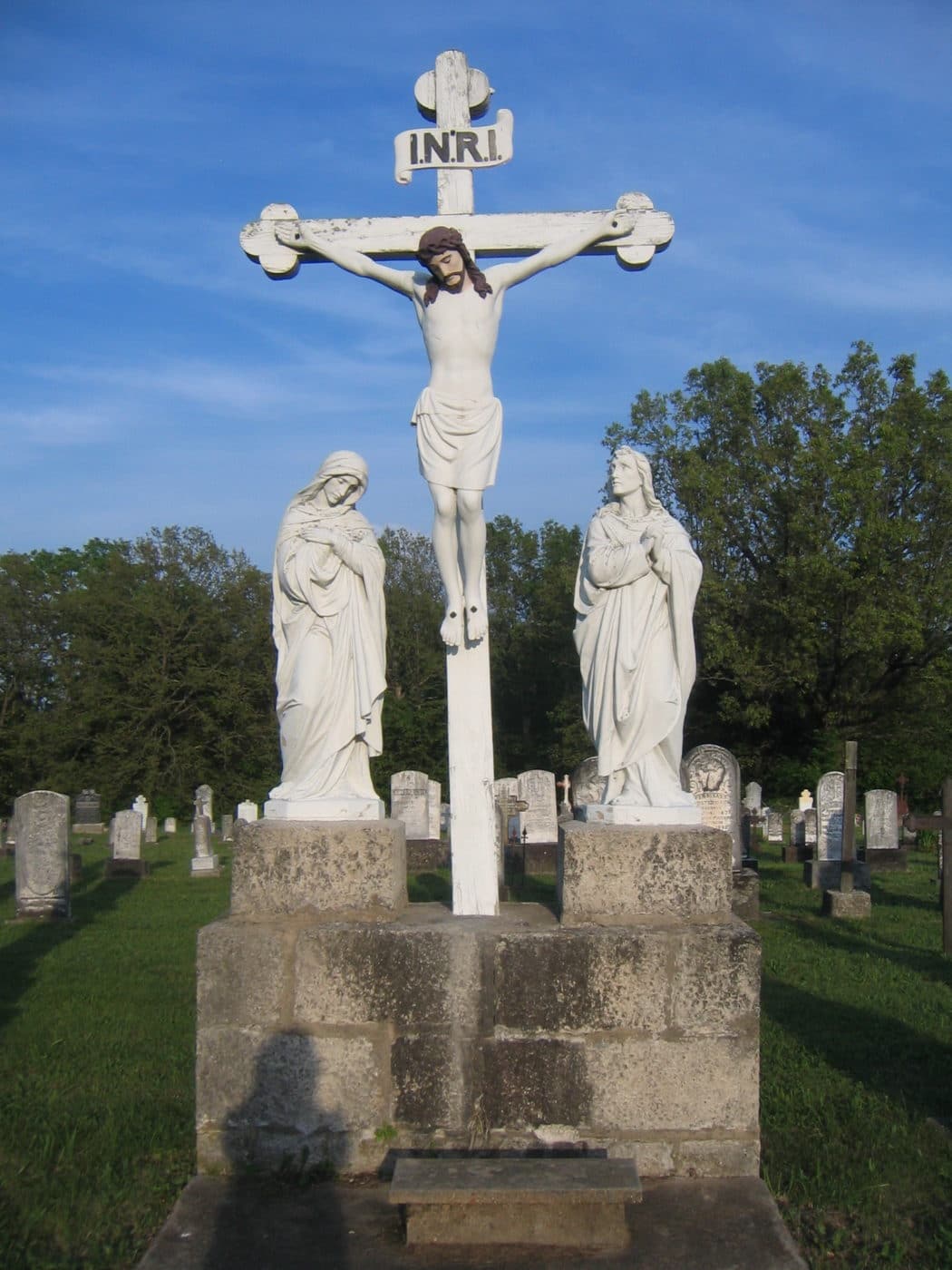 Quinto domingo de Cuaresma, año A, Juan 11: 1-45
El siglo XX trajo al mundo la tragedia incomprensible de la historia humana y puso a prueba los límites de la razón y la ciencia. Uno de los eslóganes o consignas más populares que apareció en la última parte del siglo XX respondió a la cuestión del sufrimiento de esta manera: La vida es un misterio para vivir. No es un problema a resolver. Cuando escuché estas palabras por primera vez mientras asistía a un retiro cuando era joven, fue como si una nube oscura se levantara sobre mí y pudiera ver el sol nuevamente. Me estaba haciendo mayor y, a medida que crecía y estudiaba más y más, me resultaba más difícil de entender. Sí, hay reflexión y estudio. Sí, hay ciencia y razón. Pero todo esto desaparece ante el misterio incomprensible de la existencia humana.
Rainer Maria Rilke, una poeta alemana del siglo pasado, lo dice así: "Me encantan las preguntas en sí mismas, como habitaciones cerradas y como libros que ahora están escritos en una lengua muy extranjera". Si bien Rilke abandonaría su fe católica en su vida posterior, su poesía no puede leerse sin referencia a la religión en la que creció. Su poesía está llena de misterio. Utiliza muchas imágenes de las rituales y la teología católica como peldaños para hablar sobre la vida. Puede que no haya apreciado las respuestas católicas de la fe, pero no podía negar las preguntas católicas que hemos estado haciendo desde el comienzo de nuestra existencia como pueblo de Dios.
Estamos leyendo el tercer pasaje del evangelio en una fila del Evangelio de Juan. Hay muchas maneras de abordar el relato de Juan de la historia de la vida, muerte y resurrección de Cristo y el comienzo de la Iglesia. Una forma muy efectiva de abordar el misterio de Cristo es escuchar las preguntas que las personas le hacen a Jesús o las preguntas que se hacen entre sí sobre Jesús. La primera mitad del Evangelio de Juan es el Libro de los signos. Jesús logró siete grandes signos de su poder. Con estos signos hay largos diálogos que exploran el significado de estos signos y guían al lector a la fe. Las preguntas que hacen los personajes son puntos clave en las narraciones para ayudarnos a enfocarnos en las respuestas que Jesús nos da.
Hace dos domingos, Jesús le pidió un trago a la mujer samaritana. La mujer samaritana del pozo a su vez le pregunta a Jesús: "¿Cómo es que tú, que eres un hombre de Judea, me pides una mujer samaritana para tomar un trago de agua?" La historia continúa mientras Cristo aleja a la mujer de su preocupación por el problemas diarios de buscar agua del pozo de Jacob, llevándola a examinar la mayor sed que hay en ella que el agua terrenal no puede saciar. Preguntas como esta se hacen nuevamente en el capítulo seis del Evangelio de Juan, cuando la gente quiere comer pan gratis, y Cristo les ofrece algo más. La mujer del pozo y la alimentación de la multitud son exploraciones en las dificultades que enfrentamos los seres humanos con la simple supervivencia. La pregunta es, "¿por qué es tan difícil encontrar comida y refugio, salud y seguridad?"
El domingo pasado, se hizo la pregunta: "¿Es este hombre ciego por su pecado o por el pecado de sus padres?" Esta pregunta ilustra uno de los temas centrales en todas las Escrituras: ¿qué hacemos con respecto al pecado y al mal en este mundo? ¿Por qué existe el mal? ¿Por qué hay sufrimiento? Los líderes religiosos estaban bastante seguros de que sabían la respuesta y, en muchos casos, tenían razón: el sufrimiento existe en el mundo porque pecamos. Pero Jesús no se detiene allí. Jesús se involucra en estos largos diálogos para ayudar a las personas a explorar el sufrimiento a su alrededor, en lugares donde no parece que podamos encontrar a Dios en absoluto, y dice que es precisamente allí donde el poder de Dios es más evidente.
Este domingo, la última pregunta que cada uno de nosotros nos hace, formulada por Marta y María, "¿Por qué permitiste que nuestro querido hermano, tu amigo Lázaro, muriera? La respuesta de Cristo es simple: "Y Jesús lloró". La pregunta que hicieron Marta y María fue la pregunta que hicieron los primeros cristianos. Si Cristo resucitó de los muertos, si tenía poder sobre la muerte, ¿por qué mueren las personas que amamos? Esta es la pregunta fundamental que todo cristiano debe enfrentar. Paul luchó con esta pregunta también. Dio muchas respuestas al experimentar su propia confusión cuando el regreso del Señor se retrasó. Cristo resucitó y vive entre nosotros. El Espíritu de Cristo está dentro del creyente. Para la persona de fe, la pregunta sobre la muerte se convierte en "¿cómo experimentamos la unidad con el Señor resucitado ahora? Si vivimos, vivimos en el Señor. Si morimos, también morimos en el Señor ". Pablo invita a sus compañeros discípulos a entrar en el misterio de Cristo, lo que necesariamente significa unirse al sufrimiento de Cristo y su muerte. Si no entramos en el misterio pascual, no tendremos al Cristo vivo dentro de nosotros. Cuando Jesús lloró por la muerte de Lázaro, nos mostró que había entrado completamente en el misterio de la humanidad, compartiendo con nosotros todo.
La Iglesia continúa haciendo estas preguntas sobre la supervivencia simple: ¿cómo sobrevivimos cada día? ¿Lo que es importante? ¿Qué debemos hacer? Sobre el problema del pecado: ¿por qué sufren las buenas personas y por qué Dios permite que el pecador prospere? Sobre el problema de la muerte: si Cristo resucitó de los muertos, ¿por qué debemos morir todos?
No puedo responder estas preguntas con palabras o explicaciones. Solo puedo invitarles a entrar en el Misterio de Cristo. Los sacramentos de la Iglesia son los medios principales por los cuales estamos inmersos en el misterio de Cristo. En nuestros bautismos, estamos inmersos en su muerte. En la Eucaristía compartimos la pasión sacrificial y la muerte de Cristo en la cruz. La Eucaristía es sacrificio, pero también es una comida ágape: estamos unidos como el Cuerpo de Cristo al experimentar su amor por nosotros derramado sobre el altar.
En el centro de la oración eucarística se encuentra el misterio de la fe: y todos proclamamos juntos nuestra respuesta a todas las preguntas que llenan nuestros corazones. Cada vez que comemos de este pan y bebemos de este cáliz anunciamos tu muerte, Señor, hasta que vuelvas.