Our Lady of the Lake
Knight of Columbus Council 9273
P.O. B. 2390
Lake Ozark, MO 65049
Join the Knights of Columbus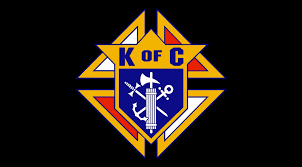 If you are interested in Joining our Council, click on the following link for web info form (This will be directed to the Contact us link shown below)
The Knights of Columbus is a Catholic fraternal, benefit society based in New Haven, Connecticut. It was founded by Father Michael McGivney at St Mary's Parish in New Haven on March 29, 1882. The history of the Knights of Columbus can be found by clicking on the History of the Knights of Columbus link in the header.
Our Lady of the Lake Council 9273 was founded, April, 1986 with 45 Charter members, and 14 of these were father/son members. The history of the Council can be found by clicking on the link on the header titled History of Our Lady of the Lake Knight of Columbus Council 9273. Our Council is named after Our Lady of the Lake, who is the Patron Saint of our parish. Meetings are held the 3rd Tuesday of each month, with a rosary at 6:30 in the chapel and meeting at 7:00 in Bestgen Hall. The Council holds their meetings in Bestgen Hall at 2411 Bagnell Dam Blvd., Lake Ozark, MO (Our Lady of the Lake Catholic Church). The Grand Knight for 2019-2020 is Gary Chaput and he can be contacted at gkchaput@att.net.
Our Pastor, Chaplain and Past State Chaplain Monsignor Marion Makarewicz stated the following on being a Knight:
"First, the most important part of being a Knight is living your faith publicly. That doesn't mean you have to go out and start street preaching. It means that you are a person of prayer and are committed to living the Gospel."
"The second thing about the Knights at Our Lady of the Lake is that they are faithful to the sacraments. 
The Knights are leaders when it comes to faithful attendance at 
mass and assisting in ministries in the parish. Neither of these is 
extra-ordinary or something required of you beyond being a faithful, practicing Catholic. None of us is perfect, but all of us show up and help each other manage our imperfections, and assist in building up the Church."
Knights are Catholic men, 18 years of age and older, who are committed to making their community a better place, while supporting their Church. Being a Knight is more than camaraderie, it is being involved with your community; it is supporting your local Catholic Church, while enhancing your own faith; it is protecting and enhancing your family life. Council 9273 has programs to meet today's challenges to support our church, and community activities are centered around the Knights of Columbus Faith in Action Program.
KNIGHTS IN ACTION. FAITH IN ACTION
The Knights of Columbus offers men a place to lead their families and communities in faith and service and put their Faith into Action. Knights of Columbus members, parishes and families have the opportunity to make a meaningful difference through 32 Supreme-Council-recommended programs.
Our Faith Programs: Our goal is to strengthen men and their families in the Catholic faith. Formation in our faith goes beyond mere facts or religious practice to an authentic connection with a loving God and his son, Jesus Christ. Programs in this category are designed to draw us closer to God and the Church in a tangible and meaningful way.
Our Community Program: Where Knights are called to serve others. Our first principle is Charity at Home with our families and in our communities. When Knights of Columbus members come together as one through their council and parish, they accomplish great things.
Our Family Program: Where Father McGivney sought to strengthen the familial bond of father to mother and children to parents, his vision for family life was not only financial and material aid, but also spiritual strength. The majority of our time is easily spent in secular circles unless we intentionally create ways to live the domestic church. These programs, created for families by families, help us to live this call.
Our Life Program: "Catholics must be committed to the defense of life in all its stages and in every condition" (St. John Paul II, 1995). The urgency of the threat to a culture of life in our world cannot be misunderstood. The Knights of Columbus vigorously defends the dignity of each human being at every stage of life. Councils and parishes can work to build a culture of life and a civilization of love through these important programs. For more information on these programs, log on to:
https://www.kofc.org/uns/en/programs/index.html
Our Lady of the Lake Council sponsors Coats for Kids, Poster contests for Bullying, as well as Alcohol and Drug abuse at the local schools; Donuts in the Fellowship area after the 8:00 and 10:00 masses on Sundays; and a special mass for deceased Council & Auxiliary members once a year; BBQ for PSR students and families each spring and fall; and donations to the Parish, Hope House, and supports a Seminarian. The Council has fundraisers to support these programs along with other Charitable works that need funding. The fundraisers, include 6 fish fries during Lent, 10 country breakfast throughout the year, and a tootsie roll drive every fall. In 2019 donations were over $19,000.00. Click here to read all of the organizations receiving donation.
Our Council has a Ladies Auxiliary, and if you are married, your wife may join. The Auxiliary provides outstanding support for all our programs and activities. To learn more about the Ladies Auxiliary click here. (Can you direct this to the Ladies website?)
The Supreme Council has insurance and investment programs that provide protection for Knights and their families. Information on these programs can be found by clicking here:
(https://www.kofc.org/en/insurance/our-products.html)