Advent 2020 Web Page just released! Click HERE to jump in!
Explore the Scripture

— As a community, we will be doing a study of the Sunday Mass Readings to prepare our hearts for the coming of our Lord at Christmas. This will be something you can do as an individual, a family, or a small group.

Make an Advent Wreath

— The word advent means "coming" and during this season we prepare for Jesus' coming both at Christmas time and when he comes again. The Advent Wreath reminds us daily that we must prepare our hearts. Learn more about it and make your own.

Track the path of Mary and Joseph

— As a church, we are a "pilgrim people" traveling together toward God. In Advent we are on a pilgrimage to Bethlehem with Mary and Joseph where they had to go to be enrolled. We walk with them courageously towards the birth of Christ. Trace their route south to Bethlehem.

Read about parish Family Advent Traditions

— Share yours by emailing the office with a description (mary@OurLadyLakeOzark.org).

Take a virtual tour of Bethlehem and sites

— see the Church of the Nativity and the Grotto where the Baby Jesus was in the manger.

Take the Advent Trivia Quiz

— Test your Advent knowledge of history and tradition.

Find out more

— Keep up to date on what's going on in our faith community preparing for the coming of Christ!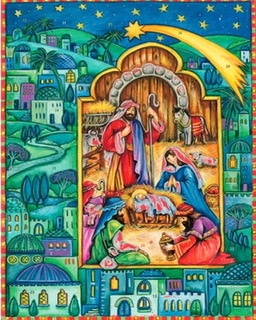 Stay tuned for more as we travel together toward the birth of Jesus.