Knights of Columbus #9273 Newsletter for February 2021
Newsletter for Febuary 2021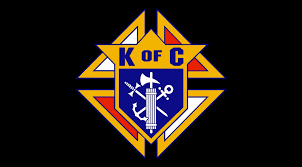 Grand Knight: Gary Chaput
Deputy Grand Knight: David Hotop
Chaplain: Monsignor Marion Makarewicz
Chancellor: Mike Scherer
Financial Secretary: Larry Bayless
Treasurer: Ernie Pither
Recorder: John Weidler
Warden: John Akscin
Inside Guard: Greg Thompson
Outside Guard: David Kneeter
Advocate: Hank Sateia
1 Yr. Trustee: Don Koch
2 Yr. Trustee: Charles Cassmeyer
3 Yr. Trustee: Luke Graessle
Lecturer: Gunther Skaletz
9 February 2021
Hello Brother Knights,
We will start this monthly newsletter with Monsignor Makarewicz comments below:
My brother knights: Wednesday, February 17, 2021 begins Lent. We jump start this season of penance, prayer and charity by abstaining from meat and fasting the entire day. Please check the parish web site for the specific rules that pertain to Lenten practices, especially in regard to age and health situation. Stations of the Cross will take place at 4:00 PM each Friday, with confessions after. Confessions are available from 3:00 PM to 4:45 PM on Saturdays in Lent, a little longer period for confessions since we are unable to have a communal penance service. Please take time to pray about and decide on your Lenten resolutions. Our Lenten resolutions should encompass each of the three penitential practices which make up the heart of the Lenten spirituality: prayer, sacrifice, and charity. Lent isn't just a season of self-improvement. While penance is a sign of the continual conversion of heart that takes place in the disciple, the true end of penance to purify our hearts so that we may be more disposed to the celebration of the Paschal Mystery and therefore be more disposed for the live of beatitude here and in the world to come.
I know this is a challenging time for the members of our council. The fellowship and collegiality we share is being tested. The work we do for the Lenten fish fries makes up a big part of our charitable effort, not just in fund raising, but most important as a way of giving of ourselves. I do look forward to the time when vaccination rates are enough to ensure that we can work together with minimal risk and still serve the public. In the meanwhile, let us keep supporting each other and reaching out to those in need in other ways. And as our meetings remind us, ask if there is anyone who is sick or in distress in any way. Please let us know so that we can pray for them and assist them in their need in whatever way we can.
Finally, as I wrote in the bulletin last week, we aren't able to have the usual communal celebration of the Anointing of the Sick. That means we have to schedule anointing as needed. Please don't hesitate to contact me before you go into the hospital. I'd be happy to arrange the Sacrament either here at church or at home if that is necessary and possible. Remember the Anointing of the Sick is for all those which severe chronic conditions, acute illnesses, or have grown weak under the burden of the years. God's grace is a soothing anointment that heals all our ills.
God bless and thank you for all you do for so many.
Msgr. Marion J. Makarewicz, pastor
As your Grand Knight this is my comments:
Please continue to let Monsignor Makarewicz, Deacon Paul and Deacon Jim and the Office Support Staff Kelly Hamrin & Mary Wagemann, Choir Director Steve Jannetti, Director of Religious Education Vicki Irsik and Maintenance John Riley know how much they are appreciated and to thank them for their ongoing support during this difficult time. Please continue to pray for our Bishops, Monsignors, Priests, Deacons and Seminarians.
Monsignor is asking Parishioner's to assist Our Lady of the Lake with our ministries at all Masses. Please see below what Monsignor stated in previous Bulletins regarding who can assist.
As of 6-25-2020, the CDC has now removed the specific age reference and simply speaks of increasing risk as one ages. Increased age is one factor of risk and accompanying other conditions can increase risk. It seems that we all have a little more leeway in either direction by which to make our assessments.
Please consider all factors in your decision if you would like to volunteer to serve during this time.
What is needed are Lectors, Eucharistic Ministers, and Ushers for our 5 PM Saturday Mass and 10 AM Sunday Mass. For those who determine they are comfortable and want to serve, would you please let Mary or Kelly know which Masses and which ministries you are willing to assist with via email or calling the Parish Office at 573-365-2241. They will then schedule you and send out a weekly email to those assigned that week along with the protocols for Ushering and Being a Eucharistic Minister during this time.
Laclede Industries Waste Watchers Recycling Center located near the dam at Valley Rd, Lake Osage, MO, 65049 has agreed to allow our council to drop off recyclable items at no cost for the year 2021. Just show Bobby, the facility director your Knights of Columbus or Auxiliary current membership card for 2021. They have allowed our council to do this because of our council donated to their facility in 2020. They are open only on Tuesdays. Please thank them on behalf of our council.
Monsignor Makarewicz sent this to me in an email and I totally agree with his statement. God raises up the right people at the right place in the right time. Carl Anderson was that man. We were so blessed to have such a man as our leader for the past 20 years. May God bless and keep him. Vivat Jesus!
The Knights of Columbus board has elected an extraordinarily well-qualified new Supreme Knight, his name is Patrick Kelly. Patrick has dedicated his life in service to the Church. his country and the Knights of Columbus Please keep him in your prayers as our New Supreme Knight.
Forty Days for Life is Feb 17 to March 28th, 2021.
Midwest March for Life "To Honor and glorify Jesus Christ" Missouri State Capitol, Jefferson, City is on Wednesday April 14th, 2021. Contact information number is 573-340-8444.
8:00 A.M. Capitol Prayer Walk – Meet Bonnie Lee, Open Heart Baptist, 1st floor Capitol rotunda: prayer cards will be distributed, prayer teams assigned offices, pray for the Legislators, Executive officers, families, and staff; leave a card of encouragement.
8:00 A.M. Rosary / Divine Mercy – Meet on the steps of St Peter Church; look for Gregory Thompson with life size cross. Fr Anthony Viviano will lead Rosary.
9:00 A.M. Knights of Columbus arrive. Place for dressing will be announced.
9:15 A.M. Pre-Rally with speakers on Capitol South Lawn
10:00 A.M. March begins leaving from Capitol South Lawn
11:00 A.M. Rally (on the South Lawn)
Hope House needs volunteers to help in the Food Pantry area during the winter months. Many of those who normally help, head to Florida for the winter. It is a great place to volunteer and to help those in need. Their Mission is this: "Our Mission is to offer hope and short-term help to those in need within our community…as an expression of Christ's love and care!" If you can help, please contact Annette Miller at 573-280-7244 or Sharon at 573-365-0099. Visit their website: www.hopehouseofmillercounty.org
During the month of February, our council welcomed one new member Thomas Dempsey and his wife Nancy. They moved to the Lake from Hannibal, Missouri. When you see them in Church please welcome them to our Parish and the Knights.
The Knights of Columbus Poster Contest for Drug and Alcohol Substance Abuse Contest is completed. The School of Osage Upper & Middle Schools winners of the Poster contest were published in the Church bulletin on February 6th & 7th. There were many outstanding posters this year. Thanks to the Teachers, Students, our Chairman Kent Rackers, Mary Dorge and Judges for all their hard work to make the poster contest possible.
The one-hundred-twentieth annual meeting of the Missouri State Council Knights of Columbus will be held on Friday, Saturday and Sunday April 23, 24, 25, 2021 at the Capitol Plaza Hotel, 415 West McCarty, Jefferson City, Missouri. Convention delegates and alternates must be sent in before March 20, 2021.
The Officers Planning Meeting was held on February 1st using the Zoom app. Our next Planning Meeting is scheduled for March 9th at 7 PM in Bestgen Hall or using the Zoom App. Social distancing and mask are required for meetings in Bestgen Hall.
District Deputy meeting was on January 31st from 2-4 PM in Camdenton at the Knights of Columbus Hall. The meeting was opened to all Brother Knights and Lady Knights. Our council had 5 members attend. It was a very productive and interesting meeting.
Ron Schwintek our District Deputy chaired the meeting and discussed the following:
The meeting started with a Prayer and Pledge of Allegiance to the Flag. Next everyone was asked to do an informal introduction of themselves.
Next each Councils Grand Knight shared information about their councils and how they were conducting business with during the Covid-19 Pandemic.
Ron talked about recognition awards, such as lapel pins for number of Years of Service to the Council. He also talked about Knight, Family and Youth awards each month and how important it is to recognize members within our Councils.
St Anthony Catholic Church Knights of Columbus Council in Camdenton will be at the Knights of Columbus Hall, located at 547 West Hwy 54. Fish Fry will be a walk thru hall and get to go. Starts on 19th February 5-7 PM, price $10.00.
St Patrick Catholic Church Knights of Columbus Council in Laurie, located at 176 Marian Dr, Laurie will be a drive thru only, starts 19th February 4:30-6:30 PM, price $5.00.
Sacred Heart Catholic Church Knights of Columbus Council in Eldon, located at 540 N. Mill St 65026 will be drive thru only, Starts 12th February 5-7 PM, price $10.00.
Our Lady of the Lake Catholic Church Knights of Columbus Council in Lake Ozark will not have Fish Fry's, due to our limited kitchen space not allowing for proper social distancing and for maintaining proper health and safety protocols recommend. Hopefully, we will be able to do our 1st Breakfast scheduled for May 2nd, 2021.
Guest speaker was Ronald Mackenberg who is the State Reginal Recruitment and New Council Development.
He talked about Membership and Recruitment. Going to individual home to recruit them. suggested using the Church roster for new possibilities. John Akscin has talked with Monsignor about this. "Being a Knights makes us a better Catholic". The Knights are going to be the main driving force to get everything started back again in the church. The Sacraments has really suffered from this COVID-19 pandemic.
He talked about a new Icon coming out in the future of St Michael the Archangel. The leader of the heavenly army defends us in the battle against principalities and powers, against rulers of the world of darkness and the spirit of wickedness in high places.
Talked about the Knights Insurance being a good investment because of the Tax-Free Status.
Talked about Council having Degree Team using the new Video and giving out the booklet with Certificate, Rosary and Membership Card.
New council Trustee Elected at Council Meeting on January 19th to replace Don Koch. Gary Kelly is our new one-year Trustee. He has agreed to do this until our installation of Officers in June. Please congratulate and thank Gary for stepping up and making this commitment to our council.
Our Knights Council and Monsignor received a nice Thank You card from the John Heinz family for Holy Sacrifice of the Mass offering. We also received a nice Thank You card from Monsignor Wilber's for the Knights Christmas remembrance.
We have ordered two new wheelchairs with the Memorial Fund from John Heinz family. Once they arrive, they will be used in the Church area. We will take a picture and forward to the Heinz family.
Our council is looking for a new Chairman for our Donut Sundays. What is involved is contacting individuals, making a quarterly schedule for volunteers, and ordering donuts. Those who volunteer would put donuts on plates and serve donuts and coffee after 8:00 and 10:00 Masses. This is an activity that members and their spouses can help with – If you can help please let Gary Chaput at 573-723-0514 or email me at gkchaput@att.net
Our next Council meeting is scheduled for February 16th, Rosary 6:30 using the zoom app. Monsignor will lead us in the Rosary. If you have any questions about the Zoom app, please contact the Church Office 573-365-2241 or contact me at 573-723-0514
Please continue to pray for our Country, Monsignor, Parish Community, Families, and all those who are in the Medical Profession, and First Responders. Also pray for our Faithful departed Brother Knights and Lady Knights, and all our sick members. (Monsignor Wilbers, Deacon Paul Poulter, Don Koch, John Weidler, Gary Kelly, Gunther Skaletz, Gordon Russell, Joseph Schutzenhofer, Clark Gruninger, Frank Medved, Louis Noland, Debbie Noland, Mellodi Graessle, Lucille Needham, Jeanne Rackers parents, Pam Scherer, Mary Russell, Nancy Callahan, Kelly Hamrin and Colleen Parise and Jim Tapella family, and any other members that I have failed to mention).
Remember to pay your annual Knights dues for 2021.
Thanks for what you do for our Parish and our Community. Peace be with all and God Bless.
Gary Chaput
Grand Knight