Knights of Columbus Council #9273 Newsletter for December 2020
Newsletter for December 2020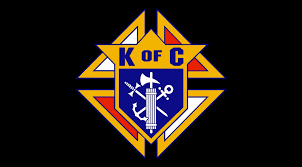 Grand Knight; Gary Chaput
Deputy Grand Knight: David Hotop
Chaplain: Monsignor Marion Makarewicz
Chancellor: Mike Scherer
Financial Secretary: Larry Bayless
Treasurer: Ernie Pither
Recorder: John Weidler
Warden: John Akscin
Inside Guard: Greg Thompson
Outside Guard: David Kneeter
Advocate: Hank Sateia
1 Yr. Trustee: Don Koch
2 Yr. Trustee: Charles Cassmeyer
3 Yr. Trustee: Luke Graessle
Lecturer: Gunther Skaletz
14 December 2020
Hello Brother Knights,
This is Monsignor Makarewicz comments for our monthly newsletter which follows:
Dear Brother Knights, as we prepare to celebrate the birthday of Our Lord, I'd like to call attention to the Holy Father's recent dedication of this coming year to Saint Joseph. Please review my article in the parish bulletin of December 13 where you will find all the details about the coming year. All of us can learn so much about leadership, sanctity, moral virtue, and above all family life from the Patron of the Universal Church. Saint Joseph has been a constant companion on my journey, but it was only through making the 33 Day consecration to Saint Joseph that I truly understood the remarkable place that Saint Joseph should play in the life of Catholic men. Saint Joseph has much more to do than be a real estate agent to Catholics who want to sell a home. I urge all knights to either use the Prayer to Saint Joseph that was included in the bulletin, continue with a prayer to Saint Joseph which you have already been using, or find another worthy prayer to say each day. Additionally, every family should have some type of image of Saint Joseph in the home. There are some lovely icons of Saint Joseph available at Monastery Icons. Perhaps you could even arrange a domestic altar where a statue of Saint Joseph is place. Suitably decorated and containing other sacramentals that assist you in prayer, such a prayer niche can have immense spiritual benefits.
Thank you all for your witness to the faith. I know these are trying times for everyone, but the Knights have made such a difference for keeping our community thriving. Please know I pray for each of you every day. May God bless and keep you and may you have a blessed Christmas.
As your Grand Knight this is my comments:
In loving memory, let us remember our departed Brother Knight Jack Callahan. On November 9, 2020 we lost a dear Brother Knight who was a member of our council for several years. A Mass of the Resurrection for Jack was held on Tuesday, November 17, 2020. The Knights plaque was presented to Jacks family. Also, his name will be added to the Deceased Knights Plaque. Eternal rest grant unto Jack and let perpetual light shine upon him. May the souls of all the faithful departed, through the mercy of God, Rest in Peace.
Please continue to let Monsignor Makarewicz, Deacon Paul and Deacon Jim and the Office Support Staff Kelly Hamrin & Mary Wagemann, Choir Director Steve Jannetti, Director of Religious Education Vicki Irsik and Maintenance John Riley know how much they are appreciated and to thank them for their ongoing support during this difficult time. Please continue to pray for our Bishops, Monsignors, Priests, Deacons and Seminarians.
Monsignor is asking Parishioner's to assist Our Lady of the Lake with our ministries at all Masses. Please see below what Monsignor stated in previous Bulletins regarding who can assist.
As of 6-25-2020, the CDC has now removed the specific age reference and simply speaks of increasing risk as one ages. Increased age is one factor of risk and accompanying other conditions can increase risk. It seems that we all have a little more leeway in either direction by which to make our assessments.
Please consider all factors in your decision if you would like to volunteer to serve during this time.
What is needed are Lectors, Eucharistic Ministers, and Ushers for our 5 PM Saturday Mass and 10 AM Sunday Mass. For those who determine they are comfortable and want to serve, would you please let Mary or Kelly know which Masses and which ministries you are willing to assist with via email or calling the Parish Office at 573-365-2241. They will then schedule you and send out a weekly email to those assigned that week along with the protocols for Ushering and Being a Eucharistic Minister during this time.
This has certainly been a very uncertain and challenging year for us all with the Convid-19 Pandemic. We have all had to adapt and learn new ways to continue with our lives and how to still be able to support our Family, Jobs, Parish Community and our Knights of Columbus council and commitments. Virtual communication and learning have taken on whole new meaning in our lives.
The money raised through our work, donations and grants goes primarily to our Parish and to Charities that need our support. In 2020 even with the Pandemic, we still donated over $13,000.00. A breakdown on the distributions is included in my annual report that will be mailed in January.
Update on the Annual 50/50 Raffle. It started on July 15th and will end December 18th when the winners will be announced. Distribution is as follows: 50% to our council, and the remaining 50% split into 1st place 25%, 2nd place 15% and 3rd place 10%. Price is $5.00 ticket or 5 for $20.00. Total currently is $1,285.00, thanks to everyone who has supported the raffle. There are still tickets available at the Church office or you can contact Larry Bayliss. We will ask Monsignor Makarewicz to draw the winning tickets on December 18th and the winners will be notified.
Special thanks to all the Knights who helped setup the Manger Scene on Thursday the 10th after Mass. We will take it down on Thursday January 9, 2021 after the 8 AM Mass. If you would like to help, just show up in front of the church.
A special thanks goes out to all the Brother Knights and Lady Knights who donated and helped with the Advent Giving Tree. Because of you, no child will go without a gift on Christmas day, thank you. We also appreciate all the hard work that Pat and Larry Bushjost do each year to make this possible.
We need a new Chairman for our Donut Sundays. What is involved is contacting individuals, making a quarterly schedule for volunteers, and ordering donuts. Those who volunteer would put donuts on plates and serve donuts and coffee after 8:00 and 10:00 masses. This is an activity that members and their spouses can help with – If you can help please let Gary Chaput at 573-723-0514 or email me at gkchaput@att.net.
Hope House needs volunteers to help in the Food Pantry area during the winter months. Many of those who normally helps, heads to Florida for the winter. It is a great place to volunteer and to help those in need. Their Mission is this: "Our Mission is to offer hope and short-term help to those in need within our community…as an expression of Christ's love and care!" If you can help, please contact Annette Miller at 573-280-7244 or Sharon at 573-365-0099. Visit their website: www.hopehouseofmillercounty.org
Roses for Life weekend is January 2nd and 3rd.The Rose is the symbol for Life. Our Knights of Columbus Council is asking for your help. As you are leaving the church from the front or back entrance, to please stop by the Roses for Life tables and take time to pick up the 3 roses, that are bundled together and take them home with you. Sign the sheet of paper attached to each rose and send to each of our elected Representatives for the state of Missouri. Their names and addresses will be provided on a separate sheet of paper.
By distributing Roses and collecting signatures & donations, the Missouri Knights show their strong Pro-Life commitment. The signatures are sent to the local/state/US legislators to remind them to stay (or convert to) prolife. The program is held in January of each year, usually on the Sunday nearest the Jan 22 Roe-V-Wade decision.
Normally our Council would send your signed Roses to our elected Representatives, so they will remember the voters in their district plus the millions of Pro-Life Supporters and voters across our state and nation. Because of the Coronavirus pandemic we are required to do something different.
We also ask you to pray the Rosary to end abortion and to give your moral support to those people going to the March for Life in D.C. and the Mid-West March for Life in Jefferson City. if you can help this weekend please contact Gary Kelly at 573-746-677.
In January we will mail out a letter that includes a summary of the various charitable contributions made in 2020 along with the proposed events for 2021. The mailing will also include the calendar of events for 2021 and the Knights annual membership renewal letter.
Consecration of the Holy Family is on Sunday December 27, 2020.
Unfortunately, there will not be a Christmas Party or Council meeting in December because of Covid-19. We cannot have food served and socialize and be completely safe about it. Our Council Officers feel that this is best this year. We still want to wish everyone the best holiday season.
The Knights of Columbus Poster Contest for Drug and Alcohol Substance Abuse Contest for 2021 is underway. Kent Rrackers sent out poster information the first week in November. We will pick up the posters on the 15th of January 2021 from School of the Osage Upper Elementary and Middle schools. Mary Dorge will be contacting individuals asking them to be judges for the poster contest which will be in Bestgen Hall.
If you would like to be a judge, please give Mary a call at 573-348-4609. Monsignor has asked that the posters sit for 2 days after picking them up, before judging. Also, judges will have to maintain social distracting and wearing of their mask when judging the posters.
Missouri Governor Parsons Executive Order 20-19 has extended the state of emergency in Missouri through March 31, 2021. It does State: Wearing a mask, social distancing, and proper hand hygiene remains the three major covid-19 mitigation strategies.
The Officers Planning Meeting was December 7th, using the Zoom app. In January we will meet on January 11th at 7 PM in Bestgen Hall.
Our next Council meeting is scheduled for January 19th at 7 PM with Rosary at 6:30 Pm. This is subject to change with the pandemic. If we are unable to meet in person in Bestgen Hall, we will do it using the Zoom app. If the meeting is held in person social distracting and wearing of the mask will be required.
Remember to pay your annual Knights dues for 2020. Many of you have paid but there is still a few who have not paid.
Please continue to pray for our Country, Monsignor, Parish Community, Families, and all those who are in the Medical Profession, and First Responders. Also pray for our Faithful departed Brother Knights and Lady Knights, and all our sick members. (Monsignor Wilbers, Don Koch, Steve Jannetti, Gary Chaput, John Weidler, Gary Kelly, Frank Medved, Shirley Shafer mother of Mellodi Graessle, Lucille Needham, Jeanne Rackers parents, Pam Scherer, Mary Russell, Nancy Callahan, and any other members that I have failed to mention.
Wishing you all a special Christmas and a Safe and Happy New Year. We all have so many things to be thankful in our lives. Thanks for what you do for our Parish and our Community. Peace be with all and God Bless.
Gary Chaput Grand Knight