Knights of Columbus Council # 9273 Newsletter for February 2020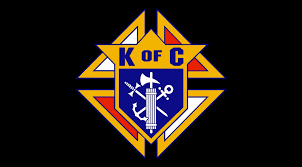 Grand Knight; Gary Chaput
Deputy Grand Knight: David Hotop
Chaplain: Monsignor Marion Makarewicz
Chancellor: Mike Scherer
Financial Secretary: Larry Bayless
Treasurer: Ernie Pither
Recorder: John Weidler
Warden: Tony Boes
Inside Guard: Greg Thompson
Outside Guard: David Kneeter
Advocate: Hank Sateia
1 Yr. Trustee: Don Koch
2 Yr. Trustee: Charles Cassmeyer
3 Yr. Trustee: Luke Graessle
Lecturer: Gunther Skaletz
February 2020
Hello Brother Knights,
Our next Knights of Columbus meeting is Tuesday, February 18th. Rosary will be held in the Chapel at 6:30 and the meeting is at 7 PM. Please make a special effort to attend.
In loving memory, let us remember two of our departed brother knights. In November 2019 we paid our last respects to Edward A. Rassenfoss and in January 2020 the most Reverend Joseph James Offutt. Please remember them and their families in your prayers.
During the month of January, our council welcomed two new members Johnathan Mudd and Nathan Otto. Both also received their 1st, 2nd and 3rd degrees in January.
Each of you should have received your 2020 Knights Letter, Calendar and Annual Dues notice in the mail. They were sent out on 17 December 2019. If you didn't receive a copy please let me know. Also, if you haven't paid your 2020 dues, please do so.
Laclede Industries Waste Watchers Recycling Center located near the dam at Valley Rd, Lake Osage, MO, 65049 has agreed to allow our council to drop off recyclable items at no cost for the year 2020. Just show Bobby, the facility director your Knights of Columbus or Auxiliary current membership card for 2020. They have allowed our council to do this because of our council donated to their facility in 2019. They are open only on Tuesdays. Please thank them on behalf of our council.
Charles Cassmeyer is currently designing a Knights of Columbus web site. if you have any inputs or would like to help please let Charles know.
Our Council has been asked to direct traffic and parking, to assist handicap if needed and greet visitors at the front and back doors of our church on Sunday February 9th for the Steve Angrisano Concert starting at 3 PM. If you can help, please arrive NLT 2:30 PM.
Our First Fish Fry is February 28th, then March 6th, 13, 20, 27 April 3 rd., 4-7 PM. Please come and help when you can, if you can't help please come and support the fish fry.
Knights of Columbus change of Exemplification for 1st, 2nd and 3rd degrees. This is the biggest change that most Knights will ever see. After 142 years, the Knights of Columbus is pulling down a veil of secrecy that has surrounded its initiation ceremonies in an effort to better showcase the order's core principles and its drive to help Catholic men become disciples. But starting this year, the Knights have adopted a new ceremony. Called the Exemplification of Charity, Unity and Fraternity, it combines the initiation for the first three degrees into a single ceremony that will be open to family, friends and fellow parishioners. There is nothing we do that is secret or needs to be secret," Supreme Knight Carl Anderson told the Tennessee Register, newspaper of the Diocese of Nashville. "We decided this is a way to let other parishioners know, family members know, what the Knights of Columbus is all about. We think that's a good thing." But today, those features have proved to be an impediment to men joining, particularly young men, Anderson said. The new single ceremony takes about 30 minutes, Anderson said. There will be a viewing of the new Exemplification this Friday night 6:30 PM at Bestgen Hall, please try to attend. If you are unable to attend and would like to see the video of the new Exemplification, please let me know and I will email it to you. As your Grand Knight, I ask that each of you try to be open about this new change. What we say and do as knights will leave a lasting impression and impact our younger knights.
Our council has just completed the Knights of Columbus annual Drug and Alcohol Substance Abuse poster contest with the Elementary School of the Osage. The winners of the Substance Abuse Poster Contest for Drugs Awareness, ages 8-11 were 1st, Sabastien Hovey, 2nd Avery Sperling and 3rd Sarah Morgan. Winners for Alcohol Awareness, ages 8-11 were 1st Macaily Brown, 2nd Kathleen Spriggs and 3rd Delaney Hague. These students are so motivated and talented it truly makes it hard to judge each poster. Special thanks to Kent Rackers, and Mary Dorge and all the judges who helped to judge the posters.
Our council has received a special grant for our 2020 fish fries. It was presented to the Our Lady of the Lake Knights of Columbus from the Pat and Julia Koellner Family Foundation Fund at the Quad Cities Community Foundation. Chris Smith is a daughter and will be attending some of our fish fries. When she does, our council will recognize her and present to her a special plaque to show our appreciation. Jeanne Rackers is working on a special poster display to recognize her and her family for this special grant. Please make a special point to thank Chris Smith and her friend Chet Carrara when they attend.
Knight of Columbus Donuts Sundays are February 9th, 16th and 23rd. If you would like to volunteer to help, please contact Don Koch at 573-286-6229.
If we have any members that might have a portable welder, we need your help. Our BBQ Trailer was being towed back into the storage area a weld broke on the hitch. The tongue that goes to the hitch is welded to the BBQ at the front of the trailer and in the middle of the trailer under the BBQ pit. The weld in the middle of the BBQ failed which resulted in the tongue going up and the back of the tongue going down. If someone has a welder/generator on a truck it might be able to be repaired where it is. If not, it will need to be loaded on a trailer and brought somewhere to be repaired. We need to get this fixed before the PSR BBQ on April 22nd. Please give me a call at 573-207-0153 (H) or 573-723-0514 cell.
Our council is sponsoring Seminarian Derek Hooper. He is a member of the Cathedral of St. Joseph in Jefferson City. He is currently attending Mundelein Seminary at the University of Saint Mary of the Lake in Mundelein,Illinois. If you would like to write to him, his address is Mundelein Seminary | University of Saint Mary of the Lake | 1000 East Maple Avenue | Mundelein, IL 60060.
If any brother knight is interested in becoming a Fourth Degree member, please let me know, the next 4th Degree Exemplification is scheduled for the 20th of June in Columbia Missouri.
Midwest March For Life 2020 was 1 February Jefferson City, Mo. at St. Peters Catholic Church. The day started with Rosary, Pro-Life Rally, March to the Capital, Youth Rally and Mass for Life. It was a great day with many Outstanding Speakers. Governor Parsons, Bishop McKnight were powerful speakers. Bishop McKnight lead the March for Life walk. Prolife Leaders and Speakers at the Capital were Outstanding. Pro-Life Leader and Founder for 40 Days for Life David Bereit was the Main guest speaker. Four members from our council attended, thanks for your support. Please continue to pray for the unborn, we are their voice.
Our council recently developed a New Members Information Packet for all our new Knights. It talks about the Knights history, our council history and our council goals and accomplishments throughout the year. Special thanks to Monsignor Makarewicz and Charles Cassmeyer for their inputs. If you would like to receive a copy, please send me an email at gkchaput@att.net or contact me at 573-207-0153.
Special thanks to all the Lady Auxiliary and Knights of Columbus members who volunteer for Fish Fries, Breakfasts, and all other events throughout the year. Our council couldn't accomplish what we do without your help.
Please continue to pray for the Good of the Order, please remember our Faithful departed Brother Knights, Lady Knights, and all our sick members. (Monsignor Wilbers, John Weidler, Gary Kelly, Jack Callahan, Darren Donley, Frank Medved, Gary Littrell, Arnold Sandbothe, Lucille Needham and any other members that I have failed to mention.
At our last Council meeting the 21st of January Henry Sateia won the 50/50 drawing and donated it back to the council. Robert Borden name was drawn for the attendance prize, but Robert wasn't present for the drawing, therefore he didn't receive the money for from the drawing. There will be a drawing at this month's meeting, and you need to put in $1.00 to be eligible for the drawing. Prizes increases each meeting until it is won.
I would appreciate hearing from you with suggestions for monthly programs and potential speakers, extra functions such as picnics, parties, games, etc.
We also want to welcome our newest Knights of Columbus members Deacon James Hankins, Jonathan Mudd, Nathan Otto, Stephen Smith, Gary Galeski and Ladies Auxiliary new members Lusica Hankins, and newest "Angels" Joan Groth and Marilyn Daly.
Thanks for what you do for our Parish and our Community. Peace be with all and God Bless.
Gary Chaput
Grand Knight