Knights of Columbus Council # 9273 Newsletter for September 2020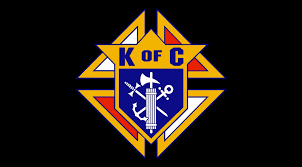 Grand Knight: Gary Chaput
Deputy Grand Knight: David Hotop
Chaplain: Monsignor Marion Makarewicz
Chancellor: Mike Scherer
Financial Secretary: Larry Bayliss
Treasurer: Ernie Pither
Recorder: John Weidler
Warden: John Akscin
Inside Guard: Greg Thompson
Outside Guard: David Kneeter
Advocate: Hank Sateia
1 Yr. Trustee: Don Koch
2 Yr. Trustee: Charles Cassmeyer
3 Yr. Trustee: Luke Graessle
Lecturer: Gunther Skaletz
Knights of Columbus Council # 9273
Newsletter for  September 2020
September 12, 2020
Hello Brother Knights,
Please continue to let Monsignor Makarewicz, the Office Support Staff Kelly Hamrin & Mary Wagemann and Choir Director Steve Jannetti and Maintenance John Riley know how much they are appreciated and to thank them for their ongoing support during this difficult time. Please continue to pray for our Bishops, Monsignors, Priests, Deacons and Seminarians.
Monsignor is asking Parishioner's to assist Our Lady of the Lake with our ministries at all Masses. Please see below what Monsignor stated in previous Bulletins regarding who can assist.
As of 6-25-2020, the CDC has now removed the specific age reference and simply speaks of increasing risk as one ages. Increased age is one factor of risk and accompanying other conditions can increase risk. It seems that we all have a little more leeway in either direction by which to make our assessments.
Please consider all factors in your decision if you would like to volunteer to serve during this time.
What is needed are Lectors, Eucharistic Ministers, and Ushers for our 5 PM Saturday Mass and 10 AM Sunday Mass. For those who determine they are comfortable and want to serve, would you please let Mary or Kelly know which Masses and which ministries you are willing to assist with via email or calling the Parish Office at 573-365-2241. They will then schedule you and send out a weekly email to those assigned that week along with the protocols for Ushering and Being a Eucharistic Minister during this time.
Beatification of Father Michael J. McGivney is Sunday October 31st. The Mass of Beatification of Venerable McGivney will be broadcast live from the Cathedral of St. Joseph in Hartford Connecticut.
The September 2020 Issue of the Knights of Columbus Columbia magazine has some interesting articles about Columbus Rediscovered, The Five Myths about Columbus and Why the Knights of Columbus. If you what to learn more about the Knights history and how the Knights got its name, you will enjoy reading these articles.
Our council officers met in person on September 8th for our regular monthly planning meeting. Our council meeting will be on the 15th of September at Bestgen Hall. Rosary at 6:30, meetings at 7 PM. Both will be in Bestgen Hall. Social distancing and mask are required for all future meetings.
October is the month to honor Our Lady of the Holy Rosary. During the month of October if any Brother Knight or Lady Knight would like to lead the Rosary starting 30 minutes before each Mass, please contact Charles Cassmeyer at 573-365-7227 or Gary Chaput at 573-723-0514 and let us know.
Knights of Columbus Council Annual Tootsie Roll Drive this year is scheduled for October 2nd to 4th. Locations are at Walmart in Osage Beach, Woods near the church. The Knights will also have tables setup with tootsie rolls and gallon jars for taking donations after each of the masses for two different weekends in October. If anyone would like to help, please contact Mike Scherer at 573-353-4639. This is a great fund raiser and we need your help.
The Knights of Columbus Annual Coats for Kids program started September 1st and will go until Mid-October. When families struggle to clothe their children with warm coats in the winter, Knights of Columbus councils help meet this basic need with the Coats for Kids program.
This year will be done differently because of Covid 19. Normally the Knights would have a breakfast fund raiser to support this program. This year we are unable to do that. We are asking our parishioners to please help by donating a new coat only and dropping it off in the box label "Coats for Kids" in the Church foyer area.
Another way you could help, would be to make a monetary donation and sent it to the Knights Financial Secretary Larry Bayliss, his address is 168 Eagle Dr. Lake Ozark, Mo. 65049-9230. Checks can be written to Knights of Columbus Council 9273, please note on check Coats for Kids. Thank you for your ongoing support for this outstanding program.
Our council is doing a Council Fundraiser using a 50/50 Raffle. It started in mid-July and will end December 18th. The winners will be announced at our 3rd Degree Christmas Party. Each of you should have received a letter with the preprinted tickets. Just cut them out and mail back to our Financial Secretary, Larry Bayliss. Distribution is as follows: 50% to our council, and the remaining 50% split into 1st place 25%, 2nd place 15% and 3rd place 10%. Price is $5.00 ticket or 5 for $20.00. If you would like more tickets for the raffle contact Larry Bayliss at 515-401-2110 or myself at 573-207-0153. Your support is appreciated. Currently ticket sales are at $500.00.
We have one new transfer, his name is Anthony Borgia, who moved back to the lake area. He is married with 3 children, retired Air Force and is a 3rd Degree now with Council 9273 and 4th Degree currently with Assembly 3442 in Illinois. Currently a member of our church. When you see Anthony and his family please welcome them to our Parish.
During the month of October, we will have our annual Knight of Columbus membership drive. On October 10-11 and 17-18. We will have individuals, or couples give a short talk about the Knights and Auxiliary programs, and what being a Knights or Lady Knight means to them. If you are willing to give a short 5-6-minute talk about the Knights or Ladies Auxiliary, please contact Don Koch at 573-286-6229 or Gary Chaput at 573-723-0514
All Knights of Columbus country breakfast for September have been cancelled.
All council members need to be familiar with the Safe Environment Program requirements. Everyone can go online and complete this training. All you must do is go online to www.kofc.org home page. Go to Members Resources bottom of the page, then click on Safe Environment Program, then click on the Praesidium's Armatus Safe Environment Program Training for Everyone. The registration code kofcsafe.
I received an email on July 20th from Frank's Medved stepson Marty. Frank has moved into Garden Gate Estates over by Tan-Tar-A now called Margaritaville. No inside visitors due to COVID 19. You can call the Garden Gate Estate to make plans to visit with Frank on the back patio, 6 feet social distancing will have to be maintained. I know that he would like to visit with you.
Next Planning Meeting will be Monday October 5th, 7 PM at Bestgen Hall. It is especially important to have all our Council Officers present at our monthly planning meeting, so we can discuss and make decisions for our council.
Also, please continue to pray for our Country, Monsignor, Parish Community, Families, and all those who are in the Medical Profession, and First Responders. Also pray for your Brother Knights, our Faithful departed Brother Knights, Lady Knights, and all our sick members. Monsignor Wilber's, Larry Bayliss, John Weidler, Charles Cassmeyer, Tony Boes, Gary Kelly, Jack Callahan, Frank Medved, Gary Littrell, Clark Gruninger, Tretch & Carrie Lawrence, Gary Chaput, Carolyn Loraine, Lucille Needham and Jeanie Rackers parents and any other members that I have failed to mention.
Remember to pay your annual Knights dues for 2020. Many of you have paid but there is still a few who have not paid.
We also want to welcome our newest Knights of Columbus members Billy Hilt and Anthony Borgia to our Council 9273 and we look forward to getting to know each of you.
Thanks to each of for what you do for our Parish and our Community. Peace be with all and God Bless.
Gary Chaput
Grand Knight