Knights of Columbus Council # 9273 Newsletter for November 2020
Newsletter for November 2020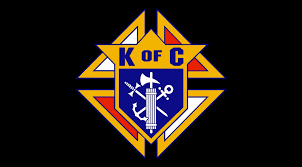 Grand Knight; Gary Chaput
Deputy Grand Knight: David Hotop
Chaplain: Monsignor Marion Makarewicz
Chancellor: Mike Scherer
Financial Secretary: Larry Bayless
Treasurer: Ernie Pither
Recorder: John Weidler
Warden: John Akscin
Inside Guard: Greg Thompson
Outside Guard: David Kneeter
Advocate: Hank Sateia
1 Yr. Trustee: Don Koch
2 Yr. Trustee: Charles Cassmeyer
3 Yr. Trustee: Luke Graessle
Lecturer: Gunther Skaletz
07 November 2020
Hello Brother Knights,
This is Monsignor Makarewicz comments for our monthly newsletter which follows:
Dear Brother Knights: I've been tempted to just ask you to read the Catholic Missourian where I am quoted regarding Fr. McGivney's beatification and the article on Pope Francis's encyclical Fratelli Tutti, but I am finding out that everyone has read it already and that means I have to come up with something new. And then there is my bulletin article on the Plenary Indulgence for All Souls Day in last week's bulletin, but again, you all have read it and then we are getting together for the memorial Mass for deceased knights and ladies. We have more information to reflect upon than ever before and very precious time to reflect. At least, I seem to have less time to process all the events around me.
That is why regular time set aside for quiet prayer, away from all distractions is so essential. One of my favorite poets, T.S. Eliot, a fellow Missourian wrote once "we had the experience but missed the meaning." Eliot was a gifted writer who saw the sense of transcendence slip away every day in the modern world. He reflected that our loss of the sense of the sacred is not primarily from ideological influences, although that was certainly a dynamic of the modern era. It was more of a recognition that modern humanity has gotten so busy in the world of production and accomplishment that we no longer take the time to listen, observe, and reflect to the degree necessary to have a healthy relationship with the world around us and with each other.
I urge all my brother knights to be faithful to daily prayer and meditation. Spend time in silence with the Word of God. Of course, I am preaching to myself more than to anyone else.
Please do not hesitate to call me anytime you need something, or you notice someone in need. The K of C are my eyes and ears out in the world, and I need your assistance in reaching out to our community and helping those in needs. You are always in my daily prayers and I continue to pledge my support for you. You make us all proud to be Catholics.
As your Grand Knight this is my comments:
Special thanks to Monsignor Makarewicz and Deacon Paul Poulter, also to all those who helped with the annual Deceased Knights of Columbus Mass on Friday November 6th. Let us all remember our deceased members this past year Brother Knights, Father Joseph Offutt, Russ Russell, John H. Heinz, Edward A. Rassenfoss and Lady Knight Rosemarie (Rusti) Forest and those members of previous years. Eternal rest grant unto their souls and let perpetual light shine upon them. May the souls of all the faithful departed, through the mercy of God, Rest in Peace. Amen."
In loving memory, let us remember our departed Brother Knight Russ Russell. On October 27, 2020 we lost a dear Brother Knight who was a member of our council for several years. A Mass of the Resurrection for Russ will be on Tuesday, November 10th at 11 AM. The Knights plaque will be presented to Russ Russell family. Also, his name will be added to the Deceased Knights Plaque. Eternal rest grant unto Russ and let perpetual light shine upon him. May the souls of all the faithful departed, through the mercy of God, Rest in Peace.
Venerable Father McGivney, was a model parish priest and founder of Knights of Columbus, was recognized as a "saint" in his day by the people closest to him. When he was named "Blessed" by Pope Francis on October 31, the Church declared what many have long believed – The holy soul of Father McGivney lives today to intercede for us before the throne of God. Many of you prayed the Novena's during 22-30 October.
Please continue to let Monsignor Makarewicz, the Office Support Staff Kelly Hamrin & Mary Wagemann and Choir Director Steve Jannetti and Maintenance John Riley know how much they are appreciated and to thank them for their ongoing support during this difficult time. Please continue to pray for our Bishops, Monsignors, Priests, Deacons and Seminarians.
Monsignor is asking Parishioner's to assist Our Lady of the Lake with our ministries at all Masses. Please see below what Monsignor stated in previous Bulletins regarding who can assist.
As of 6-25-2020, the CDC has now removed the specific age reference and simply speaks of increasing risk as one ages. Increased age is one factor of risk and accompanying other conditions can increase risk. It seems that we all have a little more leeway in either direction by which to make our assessments.
Please consider all factors in your decision if you would like to volunteer to serve during this time.
What is needed are Lectors, Eucharistic Ministers, and Ushers for our 5 PM Saturday Mass and 10 AM Sunday Mass. For those who determine they are comfortable and want to serve, would you please let Mary or Kelly know which Masses and which ministries you are willing to assist with via email or calling the Parish Office at 573-365-2241. They will then schedule you and send out a weekly email to those assigned that week along with the protocols for Ushering and Being a Eucharistic Minister during this time.
Special Thanks to all our Veteran's on Veterans Day for your service, commitment, sacrifices, and hardships and to their families for your service to our great country and nation. Also, to those currently servicing for protection of them and their families.
I want to thank each of you for your ongoing prayers for Don & Laverne Koch and for my wife Karen and I also for Steve Jannetti. Don is recovering well and no longer has the ventilator on. He is breathing on his own and trying to get out of bed, which he should not be doing. His wife Laverne is doing well also. Steve Jannetti has recovered and is doing well. As for myself I am currently fighting viral pneumonia and my wife Karen is doing fine with her lower back pain. Thanks for all your Prayers and Rosaries.
Special thanks to Mike Scherer, Larry Bayliss and David Hotop who has been helping me while I am trying to recover.
Currently our Monthly Knights of Columbus council meetings are cancelled until further notice. We continue to try to do our monthly planning meetings online using the Zoom app. I will also send out a monthly newsletter to keep all members updated on what your council is doing.
The month of October was a busy month with the Tootsie Roll drive, Rosary before each weekend Mass, Knights Membership drive, Coats for Kids drive and the Knights 50/50 raffle.
Update on Tootsie Roll Drive. (Chairman Mike Scherer did outstanding job this year) With our members volunteering the total deposits for Tootsie Roll was $4,220.00. Special thanks to everyone that helped.
Update on the Annual 50/50 Raffle. It started on July 15th and will end December 18th when the winners will be announced. Distribution is as follows: 50% to our council, and the remaining 50% split into 1st place 25%, 2nd place 15% and 3rd place 10%. Price is $5.00 ticket or 5 for $20.00. Total currently is $850.00, thanks to everyone who has supported the raffle. There are still tickets available at the Church office or you can contact Larry Bayliss.
Special thanks to Charles Cassmeyer and our Brother Knights and Lady Knights who were Rosary Leaders for the month of October in honor to Our Lady of the Holy Rosary, Blessed Mother Mary. Thanks to each of you for leading the Rosary.
Update on annual Coats for Kids Drive. Larry Bayliss and Luke Graessle delivered a total of 114 Coats to School of the Osage on October 14th. Thanks to each of you for your support for the annual Coats for Kids drive.
Update on Knights of Columbus Membership Drive during the month of October. Special thanks to those Brother Knights that gave talks after each Mass in October. They all did an outstanding job. Please welcome aboard our news Brother Knights Billy Hilt and Anthony Borgia to our Council 9273. They both recently moved to lake area. Also, Brother Knight Taylor Canon who completed his Exemplification online. There are also others that are interested in joining our council in the future. One is David Gregg who is new to our Parish.
All Saint's day was November 1st, and the feast of all Souls day begins on Monday November 2nd and continues for the entire month. As we remember our loved ones who we pray have entered into eternal life.
There will not be a Christmas Party in December because of Covid-19. We cannot have food served and socialize and be completely safe about it. Our Council Officers have voted and agreed to this.
Our council has received as special Grant from North Lee Community Foundation from the Pat and Julia Koellner Family Foundation in the amount of $2,436.78 for general support. We also received a special grant for our Fish Fry's last year from the Koellner family. Our Council is for thankful and honored and appreciative for the special grant that Chris Smith has donated on behalf of her parents for the Knights of Columbus for 2021.
The 5th Sunday of November 29th. We will need someone to volunteer to lead the Rosary. Please contact Charles Cassmeyer at 573-365-7227 if you can help.
March for Life and 40 Days for Life was September 23 – Nov. 1. Thanks to all those who took part in this outside the Columbia Missouri Planned Parenthood, 711 N Providence Rd, and those that helped spread the word about this important community outreach. If you would like more information, please contact Kathy Forck 573-821- 5130 or visit: www.40daysforlife. com/columbiamo.
Please continue to pray for our Country, Monsignor, Parish Community, Families, and all those who are in the Medical Profession, and First Responders. Also pray for our Faithful departed Brother Knights and Lady Knights, and all our sick members. (Monsignor Wilbers, Don Koch, Steve Jannetti, Gary Chaput, John Weidler, Gary Kelly, Jack Callahan, Frank Medved, Shirley Shafer mother of Mellodi Graessle, Jesse brother of Pam Scherer, Lucille Needham, Jeanne Rackers parents, and any other members that I have failed to mention.
No Planning Meeting in November we will try to have a planning meeting in December using the Zoom app.
Remember to pay your annual Knights dues for 2020. Many of you have paid but there is still a few who have not paid.
Wishing you all a happy and Blessed Thanksgiving. We all have so many things to be thankful in our lives. Thanks for what you do for our Parish and our Community. Peace be with all and God Bless.
Gary Chaput Grand Knight