Lady Clementine Churchill
Our Book Club presents… Lady Clementine. This is the ferocious story of the ambitious woman beside Winston Churchill, the story of a partner who did not flinch through the sweeping darkness of war, and who would not surrender either to expectations or to enemies.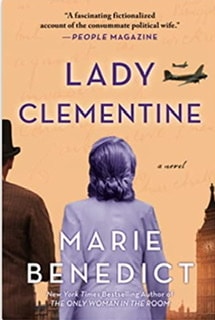 Next Meeting
Tuesday, April 12
6:30 pm
Fellowship Hall
Lady Clementine
by Marie Benedict
Meeting will be at 6:30 pm (meeting a half hour later due to Day Light's Saving's time – means summer is near and there will be light later in the day). Our meeting can also be Zoomed.
If you would like to Zoom the meeting or have any questions, please call or text Lusica – 915-490-5765.

Til Then, Happy Page Turning,
Lusica