Ash Wednesday…the beginning of Lent
February 22, 2023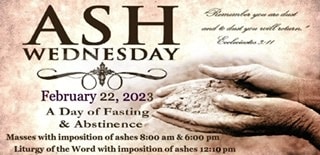 The time has now come in the Church year for the solemn observance of the great central act of history, the redemption of the human race by our Lord and Savior Jesus Christ. In the Roman Rite, the beginning of the forty days of penance is marked with the austere symbol of ashes which is used in today's liturgy. The use of ashes is a survival from an ancient rite according to which converted sinners submitted themselves to canonical penance. The Alleluia and the Gloria are suppressed until Easter.

Abstinence from eating meat is to be observed on all Fridays during Lent. This applies to all persons 14 and older. The law of fasting on Ash Wednesday and Good Friday applies to all Catholics from age 18 through age 59.

Grant, O Lord, that we may begin with holy fasting this campaign of Christian service, so that, as we take up battle against spiritual evils, we may be armed with weapons of self-restraint.

Join us Wednesday, February 22 at 8:00 AM or 6:00 PM for the celebration of Mass with imposition of ashes. OR The Liturgy of the Word with imposition of ashes at 12:10 PM.