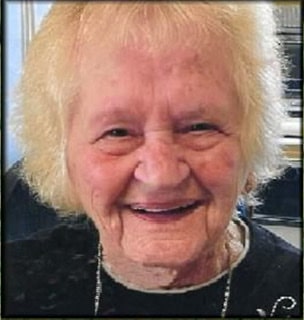 Margaret "Marge" Bellmer
1923 – 2022
Margaret "Marge" A. Bellmer, age 98, of Osage Beach, Missouri, passed away February 28, 2022 , after a brief illness. She was born June 15, 1923, in Benld, Illinois, the daughter of Slovakian immigrants Michael and Anna (Surgota) Lesicko. Her parents came to the United States in 1912, and because they didn't speak English, she spoke their native language until first grade.
Marge married Harry L. Bellmer on November 15, 1947, in Benld, Illinois. They shared 52 years of marriage until his death on December 18, 1999.  She was a devout Catholic and attended Our Lady of the Lake Catholic Church in Lake Ozark, Missouri.
Family was Marge's biggest passion. She loved to host family dinners for all the holidays, especially Thanksgiving and Easter. There were usually so many people who attended, including family friends, that it wasn't unusual for there to be people overflowing out of the house and seated on the front lawn. Marge was an excellent cook, best known for her waffles and bacon for breakfast. Someone once asked Marge why she had so many children, and her answer was "because I just love babies." She loved all her kids, grandkids, nieces and nephews, and her door was always open to anyone who wanted to stop by for a visit.
Marge lived a long and full life. She worked at Bridgeport Marina up until nearly the end of her life, helping in the office. She loved to travel, especially to Las Vegas with her son Jack, where she would play penny slot machines. Marge had a group of friends in Osage Beach who would come to her house for "Bingo Buddies" weekly and play morning into afternoon. After family dinners, she loved to play nickel Tripoli and was always up for one more game. She also loved lottery scratcher tickets, bingo, word search puzzles, going to the casino in Booneville, and Wheel of Fortune, and the Game Show Network.
Marge was a very giving person who never wanted to be a burden to anyone. She had an independent spirit, and was able to live alone after Harry's death, up until her own health failed.