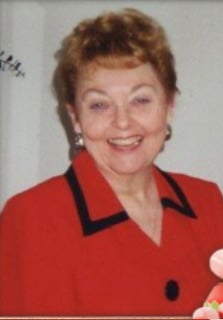 Mary Ann Russell
1931 – 2023
Mary Ann "Mame" Russell, aged 92, passed away peacefully on September 12, 2023, due to a stroke. Born on June 22, 1931, Mary lived a life marked by passion, commitment, and unwavering faith.
Mame was predeceased by her beloved husband, Russ Russel, and her dear sister, Patricia Hellweg. She is survived by her siblings, Judy Esswein and Jacklyn Kuehner. Though she didn't have children of her own, she played an influential and loving role in the lives of her 12 nieces and nephews, sharing her wisdom and joy with each of them.
A devout Catholic, Mame was an active member of Our Lady of the Lake Catholic Church. She was a pillar of her community and a beacon of faith, love, and strength to all who knew her.
In her professional life, Mary showcased her entrepreneurial spirit, owning and operating several businesses in the automotive industry. She later shifted her focus to retail, culminating in her career as the owner of Ann's Goodies Country Store. Upon retirement, she continued to be a pillar of support and guidance to many in the community.
Mame had called Osage Beach, Missouri her home for the past 35 years. The picturesque beauty of the place, paired with Mame's warmth, made her home a welcome haven for friends, family, and loved ones.
In lieu of flowers, the family respectfully requests that donations be made to Fr. John of the Holy Spirit Church PO Box 57 Garden City, TX 79739, honoring Mame's unwavering faith and dedication.
She will be dearly missed, leaving behind a legacy of love, faith, and entrepreneurship. Mame's light will continue to shine brightly in the hearts of all who had the privilege to know her.
Please join us in praying for the repose of the soul of our sister in Christ, Mary Ann Russell, a parishioner who passed away Friday, September 12, 2023 and comfort for the family.

The funeral Mass will be on Friday, September 22, 2023 at 10:00 am at Our Lady of the Lake Catholic Church, located at 2411 Bagnell Dam Blvd, Lake Ozark, Missouri. Burial will take place at Lake Memorial Gardens Osage Beach, Missouri.