We had a great meeting in September and chose a book and date for next month.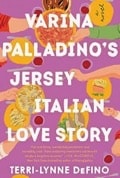 Varia Palladino's Jersey Italian Love Story
by Terri-Lynne DeFino
Monday, Oct. 9 at 6:00 pm
Our Lady of the Lake Church Fellowship Hall
ALL ARE WELCOME!
If you would like to Zoom the meeting or have questions, please call or text me – 915-490-5765.
Until then, Happy Page Turning, Lusica