Queenship of Mary Novena
Patroness of Our Lady of the Lake Parish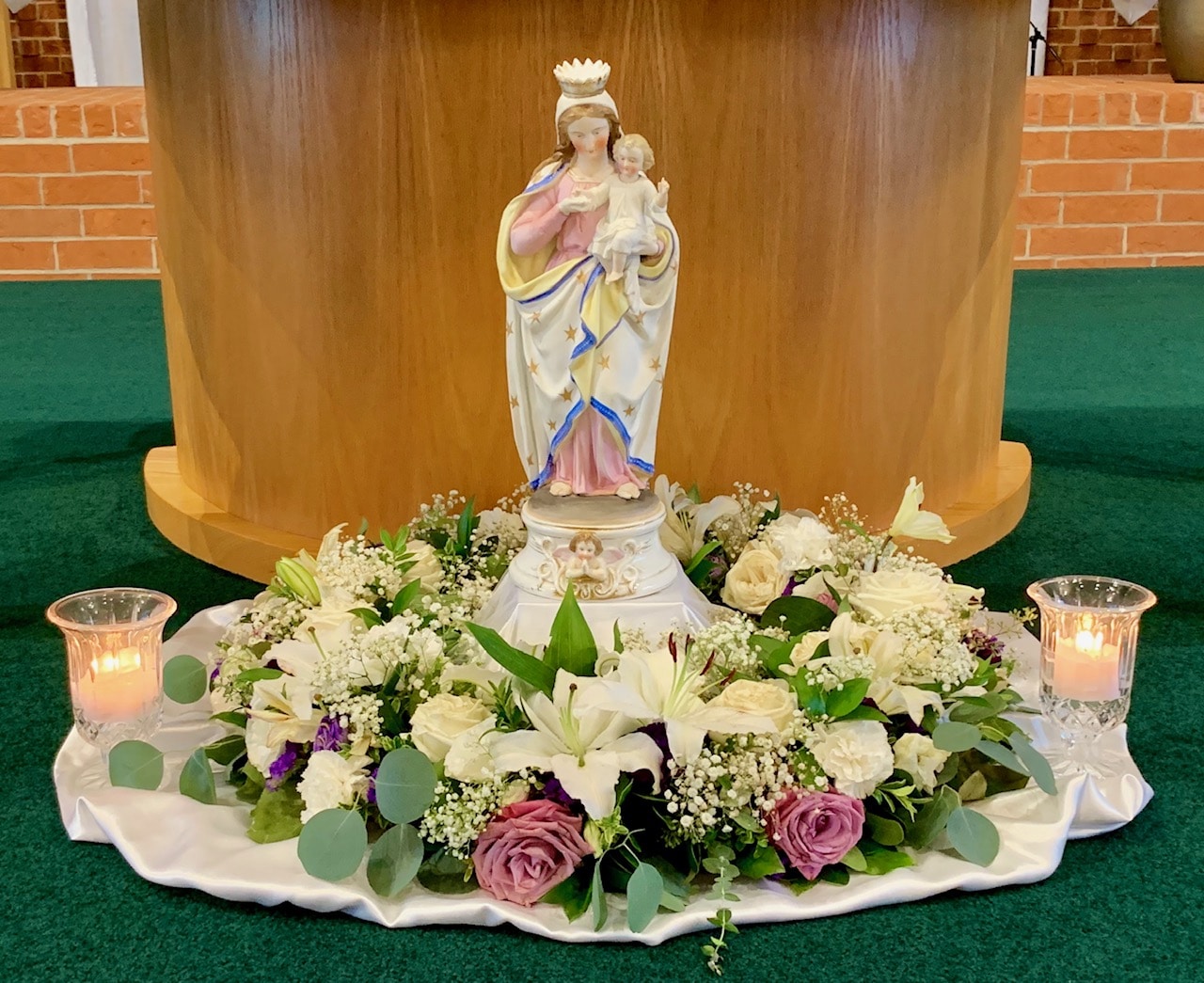 To prepare for our patronal feast, we will hold a novena of prayer daily beginning on Thursday, August 13 through Friday, August 21 in the church lead by Monsignor Makarewicz and other volunteer leaders each day.
The novena will be held at 7 pm except Saturday, Aug. 15, at 6:15 pm and Sunday, Aug. 16, at 5 pm.
The evening of the novena prayer will consist of the reading of a scripture, songs, the praying of the rosary and the praying of the Litany of Loreto.
We are in need of a few more volunteers to lead and people to participate in helping a leader during the evening novena.  Please click on the below button and then call the office at 573-365-2241 and talk to Kelly or Mary for days and time slots available to help.
If you are unable to join in the novena service each evening either at church or with the live stream, you can pray the novena on your own by downloading the prayer guide for each day. It would be wonderful if everyone at least would pray the daily novena prayer in their home each day.
Click on respective panel for each day of the novena to go to the daily prayer intention and the novena prayer guide for the day.
Confessions:  An important part of renewal programs such as the parish novena and the 33 day retreats to a consecration to Mary and to St. Joseph is celebrating the sacrament of reconciliation. Msgr. Makarewicz will be available for anyone who wishes to celebrate the sacrament of reconciliation from now until August 23. Remember that each Saturday, the Sacrament of Reconciliation is offered in the cry room in the vestibule of church from 4:00 PM to 4:45. Msgr. will hear confessions from 4:00 PM to the start of the Novena at 5:00 PM on Sunday, August 16. Msgr. will hear confessions from 6:00 PM to the start of the Novena on Tuesday, Thursday, and Friday, August 18, 20, and 21 next week. Additionally, Msgr. will be available after Masses on Tuesday, Thursday and Friday next week in the morning. And if you call to make an appointment, I'd be glad to meet you in church for an individual confession at any time. This will give ample opportunity to fulfill the requirements of confession, reception of the Holy Eucharist, and prayers for the Holy Father in order to obtain the plenary indulgence that is offered for the celebration of a Novena and a parish feast.
Daily Novena Prayer
Blessed Mother Mary, your Son Jesus Christ entrusted us to your protection as your own sons and daughters. In every age, the Church has known your maternal grace and intercession. In this special time of grace as we prepare to celebrate that you are our Queen, may we enjoy your protection, assistance, and love. By your sacred fiat, the Word was made flesh. 
Teach us how to say yes to God when he calls us forth to work in his vineyard. Grant us reverence and humility when we receive the Lord Jesus Christ in his Holy Eucharist. We call upon you, Immaculate Virgin Mary, to inspire us by your own sorrow and suffering to true contrition for our sins. As you along with Saint Joseph made a home for the Son of God, help our families to grow in holiness in their own homes. 
O Star of the Sea, please be a beacon of light for our parish so that we may fulfill our mission to bring God's Light to the World and guide all souls to heaven. Amen.