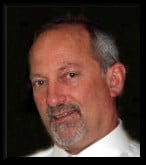 Ronald "Ron" Kinnison
1961 – 2021
Ronald Gilbert Kinnison, age 60, of Lake Ozark, Missouri, went to be with the Lord on Thursday, March 18, 2021. Ronald was born March 18, 1961 in St. Louis, Missouri, to Ronald Kinnison and Lynne (Kirchhoefer) Kinnison. He is the oldest of 3 children, brother to Mike (Gail) Kinnison and Laura (Kinnison) Hargate. Ron graduated from Rosary High School in North St. Louis in 1979 and went on to attend UMSL.
Ron is survived by his wife Lisa (Sheets) Kinnison; his 6 children Alexa (Josh), Courtney (Bob), Tyler (Casie) Reidy, Matthew Kinnison, Karli Kinnison, and Riley Kinnison. He is also survived by his 4 grandchildren Gabe, Thalia, Addison, and Kingsley; and several nieces and nephews.
Ron moved to the lake in 1993. He successfully oversaw the opening of the Wal-Mart SuperCenter in Osage Beach where he was the General Manager for over 10 years. He was a previous board member of the Lake Area Chamber of Commerce, a previous member of the Rotary Club, and current Assistant Store Director of Dierbergs. Ron was a big part of the lake community and enjoyed making others happy.
Ron loved snow skiing, water skiing, and boating. He was a big fan of the St. Louis Cardinals, the Blues, and many other sports teams. He loved making others laugh and he loved spending time with family and friends. Ron will be missed by many.