Homilia de la Solemnidad de la Anunciación del Señor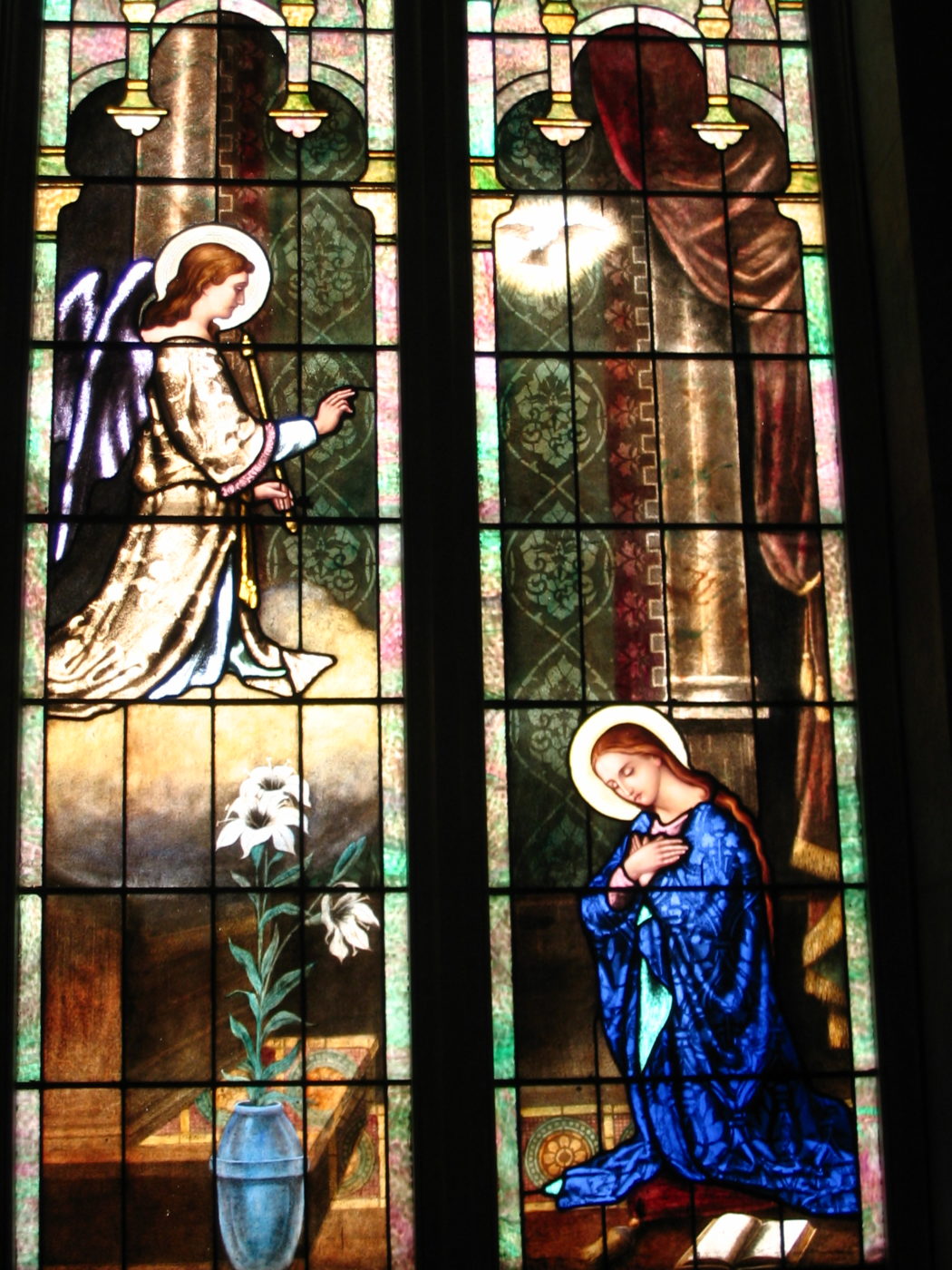 (English below)
Se sabía que San Juan de Vianne había pasado muchas horas en el confesionario escuchando a la gente decirle sus pecados y ofreciendo penitencia y absolución. Un día, un hombre muy viejo entró al confesionario y comenzó de esta manera:
"Oh Padre Juan, por favor bendíceme porque soy un pecador. Soy un hombre muy viejo, y han pasado muchos, muchos años desde que me confesé. Vivo en las montañas, muy por encima del pueblo. Soy pastor y rara vez puedo ir a misa porque en invierno la nieve me mantiene aislado y en verano debo llevar a mis ovejas a los valles altos para su pasto de verano. Pero ahora vengo a confesar porque sé que puedo morir pronto y necesito perdón por todas las cosas malvadas que he hecho."
San Juan regañó un poco al hombre por no haber asistido a misa durante tanto tiempo y no haber confesado sus pecados. Pero siempre compasivo, San Juan dio una ligera penitencia para que el hombre dijera. "Quiero que digas diez Nuestros Padres por tu penitencia. "
El anciano dijo: "Lamento decirte que no recuerdo cómo decir el Padre Nuestro. Sé que soy un pecador terrible. Por favor, dame otra penitencia.
Entonces San Juan dijo: "Bueno, ¿podrías decir tres Avemarías por tu penitencia".
"Oh no", dijo el viejo pastor. "Soy tan viejo y olvidadizo que ya ni siquiera puedo decir un Ave María".
San Juan estaba perplejo sobre qué tipo de penitencia podía darle al hombre. "Bueno", dijo, "¿Hay alguna oración que puedas decir por una penitencia?"
"Sí", dijo el hombre. "Conozco el Ángelus de memoria. Lo rezo tres veces al día.
San Juan estaba aún más perplejo por esta respuesta. ¿Cómo podría el hombre rezar el Ángelus si ni siquiera sabía cómo rezar un Ave María?
"Bueno, entonces, di el Ángelus por mí ahora mismo", dijo el Santo.
El viejo se enderezó y con la voz más alta que pudo gritar gritó: "¡Bong, Bong, Bong!"
Entonces te conté el chiste. Ahora tengo que explicarlo. Usted ve, la Iglesia tiene la oración más hermosa que recuerda la Anunciación del Señor: el Ángelus. Las primeras palabras son "El ángel del Señor anunció a María y ella concibió por obra y gracia del Espíritu Santo". La oración se dice al levantarse, al mediodía y al anochecer. Es una oración muy apropiada para nuestro día porque nos llama a meditar en el momento en que Dios se convirtió en parte de este mundo, se convirtió en parte de nuestra vida cotidiana: para despertarnos, trabajar con nosotros, comer con nosotros, para duerme con nosotros y muere con nosotros.
El Ángelus fue y aún se anuncia a toda la comunidad tocando las campanas de la Iglesia del Ángelus: un campaneo, dos campaneos, un tercer campaneo. La campana de la Iglesia fue la comunicación social original a media y larga distancia de lo que estaba sucediendo en la Iglesia. Cualquier comunidad que ha sido bendecida con las campanas de la Iglesia sabe cuán poderoso está sonando el llamado a la adoración en las calles y en las altas colinas. Por supuesto, el viejo pastor puede no haber participado en lo que estaba sucediendo en el valle, pero las campanas sonarían y las escucharía, y detendría lo que fuera que estuviera haciendo y pensaría en el significado del Ángelus: que el mundo se hizo carne y habitó entre nosotros ". Él estaba en lo correcto. Las campanas fueron una oración llamando a todo el mundo a detenerse y reflexionar sobre el misterio de la Encarnación.
Hermanos y hermanas, estamos viviendo un momento de gran prueba que traerá sufrimiento a muchos. La respuesta que se necesita para detener la propagación de esta enfermedad es difícil de imaginar. Las consecuencias del tratamiento y los efectos de la enfermedad nos pondrán a prueba a todos, individualmente, como familia, como nación, como humanidad involucrada en una catástrofe mundial.
Este mundo roto, fragmentado y pecaminoso es donde la Palabra Eterna eligió manifestarse. En el acto divino de la humildad, Dios eligió el lugar más improbable para entrar al mundo: en el seno más humilde de una simple campesina sin estatus, poder ni riqueza. Y María dijo que sí, como la humilde sirvienta que es, que se me haga de acuerdo a tu palabra.
Humildad y obediencia: estos son dos de los temas esenciales, gracias y virtudes de la Anunciación. Vivimos en una época en que la humanidad es derribada, puesta por el suelo, incluso humillada por el poder de esta terrible enfermedad. La celebración de la Anunciación nos recuerda que en nuestra humildad, Dios se manifestará nuevamente. La anunciación nos recuerda que cuando miramos a los humildes que están entre nosotros, especialmente a los que sufren, es más probable que reconozcamos el rostro de Dios en Jesucristo que vive entre nosotros.
Mi corazón está con todos ustedes cuyas vidas y medios de vida están amenazados en este momento. El amor familiar se está poniendo a prueba mientras pasamos tanto tiempo aislados. La anunciación nos recuerda que Dios sí visita a su pueblo. Dios está en los hogares y en los corazones de ustedes. Sé que en toda nuestra parroquia, las velas están encendidas para que los grandes santos pidan su intercesión. Sé que de manera especial, Nuestra Patrona, Nuestra Señora del Lago, está orando por nosotros y será la estrella que nos guiará. Sé que el amor de Jesucristo es fuerte dentro de nosotros y cuando somos llamados a ayudar a los necesitados, también podemos responder como lo hizo María: "Yo soy la esclava del Señor; cúmplase en mí lo que me has dicho"
Solemnity of the Annunciation of the Lord
Saint John Vianney was known to have spent many hours in the confessional listening to people tell him their sins and offering penance and absolution. One day an very old man came into the confessional and began this way: Oh Father Juan, please bless me for I am a sinner. I am a very old man and it has been many, many years since I have gone to confession. I live way up in the mountains, high above the village. I am a shepherd and I can rarely come to mass because in the winter the snow keeps me isolated and in the summer I must take my sheep way up into the high valleys for their summer pasture. But now I come to confess because I know I may die soon and I need forgiveness for all the wicked things I have done.
Saint John, scolded the man a little bit for not having attended mass for so long and not having confessed his sins. But ever compassionate, St. John gave a very light penance for the man to say. "I want you to say ten Our Fathers for your penance.
The old man said, "I regret to tell you that I don't remember how to say the Our Father. I know I am a terrible sinner. Please give me another penance."
Saint John then said, "Well, would you be able to say three Hail Marys for your penance."
"Oh no," said the old shepherd. "I am so old and forgetful that I can't even say a Hail Mary any more."
Saint John was perplexed about what kind of penance he could give the man. "Well," he said, "Are there any prayers you can say for a penance?"
"Yes," the man said. "I know the Angelus by heart. I pray it three times a day."
Saint John was even more perplexed by this response. How could the man pray the Angelus if he didn't even know how to pray a Hail Mary?
"Well then, say the Angelus for me right now," said the Saint.
The old man straightened out and in the loudest voice he could muster shouted: "Bong, Bong, Bong!"
So I told you the joke. Now I have to explain it. You see, the Church has the most beautiful prayer that recalls the Annunciation of the Lord: the Angelus. The first words are "The Angel of the Lord said unto Mary and she conceived by the Holy Spirit." The prayer is said at rising, at noon, and in the evening. It is such an appropriate prayer for our day because it calls us to meditate on the time when God became part of this world, became part of our everyday life: to wake up with us, to work with us, to eat with us, to sleep with us, and to die with us.
The Angelus was and still is announced to the whole community by ringing the Angelus bells of the Church: One ring, two rings, a third ring. The Church bell was the original social medium and long distance communication of what was going on in Church. Any community that is blessed with Church bells knows how powerful the call to worship is ringing out in the streets and up into the high hills. Of course the old shepherd may not have participated in what was going on down in the valley, but the bells would ring out and he would hear them, and he would stop whatever he was doing and think about the meaning of the Angelus: that the world became flesh and dwelt amongst us." He was right. The bells were a prayer calling out to all the world to stop and reflect on the mystery of the Incarnation.
Brothers and sisters, we are living in a time of great trial that will bring suffering to many. The response that is needed to stop the spread of this disease is hard to imagine. The consequences of the treatment and the effects of the disease will test us all, individually, as a family, as a nation, as humanity involved in a world-wide catastrophe.
This broken, fragmented, sinful world is where the Eternal Word chose to manifest himself. In the divine act of humility, God chose the most unlikely place to enter into the world: in the most lowly womb of a simple country girl with no status, power or wealth. And Mary said yes, as the humble servant she is, may it be done to me according to your word.
Humility and Obedience: these are two of the essential themes, graces, and virtues of the Annunciation. We live in a time when humanity is brought down, humbled, even humiliated by the power of this dreadful disease. The celebration of the Annunciation reminds us that in our humility, God will again manifest himself. The annunciation reminds us that when we look to the lowly who are in our midst, especially those who suffer, we are more likely to recognize the face of God in Jesus Christ living among us.
My heart goes out to all of you whose lives and livelihoods are threatened at this time. Family love is being tested as we spend so much time isolated. The annunciation reminds us that God does visit his people. God is in your homes and in your hearts. I know that throughout our parish, the candles are burning to the great saints to ask their intercession. I know that in a special way, Our Patroness, Our Lady of the Lake, is praying for us and will be the star which guides us along. I know that the love of Jesus Christ is strong within us and when we are called to help anyone in need, we too can respond as Mary did: I am the handmaid of the Lord. May it be done to me according to your word.