A half hour of song, praise, meditation, and prayer in the style of the Taizé community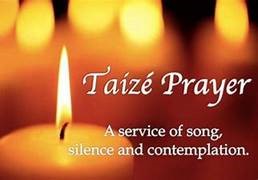 Come pray with us!
Wednesday, September 14
7:15 – 7:45 pm
Our Lady of the Lake chapel
What is Taize Prayer?
What is Taizé Worship? The Taizé Worship includes music, readings from the bible and other sources. The music (often known as Taizé chants) repeats, often following key biblical texts, allowing those present to immerse themselves in the simple but profound harmonies which is a form of sung prayer.