Beginning in July, we will be doing a book study via Zoom on "33 Days to Morning Glory" by Fr. Michael Gaitley. Here is what Johnette S. Benkovic-Williams has to say about the study: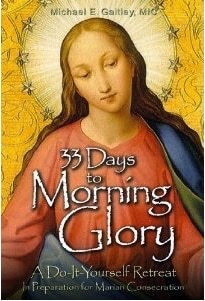 "In a day and time when the spiritual stakes have never been higher, consecration to Jesus through Mary stands as a tried and true way of attaining holiness of life. First outlined by St. Louis Grignion de Montfort, this spiritual path is an easy, sure, safe, and perfect road to travel. That is why (Fr. Gaitley) has done the people of God a great service with his adaptation of the 33-day preparation for consecration.
…(He) highlights the teachings of St. Louis de Montfort and those of three contemporary spiritual giants as well. These saints of the Church reveal the secrets of their own pilgrimage to the Heart of Jesus through Our Lady and mentor us in our discovery of her maternal beatitude. Take this retreat, and let St. Maximilian Kolbe, (St. Teresa of Calcutta, Pope St. John Paul II,) and St. Louis de Montfort lead you into the mystical wonder of the Immaculate Heart. Believe me, your life will never be the same!"
The program is as follows:
Monday, July 13, 6PM – Orientation and Introduction Meeting
Monday, July 20, 6PM – St. Louis de Montfort
Monday, July 27, 6PM – St. Maximilian Kolbe
Monday, August 3, 6PM – St. Teresa of Calcutta
Monday, August 10, 6PM – Pope St. John Paul II
Monday, August 17, 6PM – Final Five Days
The study will culminate with a consecration at Mass to Jesus through Mary on the Parish Feast Day of the Queenship of Mary, Saturday, August 22, or Sunday, August 23.
To learn more about the consecration, go to the parish MINISTRIES page on our website: https://ourladylake.diojeffcity.org/parish-life/ministries/
Contact Kelly, 365-2241, or olloffice2018@sbcglobal.net